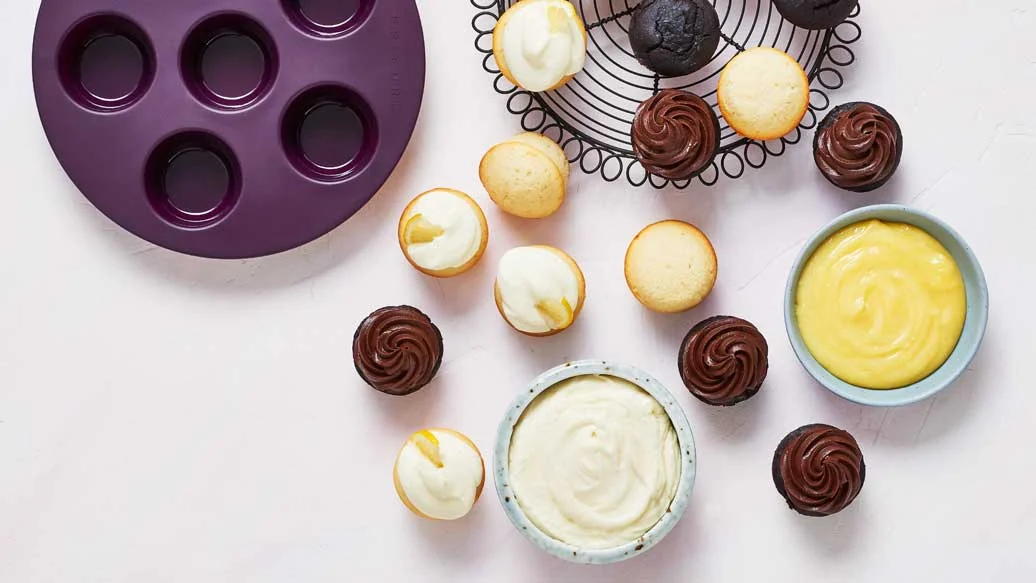 40 min
12 cupcakes
$0.42/serving
Ingredients
1⁄2 cup unsalted butter, softened
1 cup granulated sugar
2 large eggs
1 tbsp grated lemon peel, about 1 lemon
2 tsp vanilla extract
1 1⁄2 cups all-purpose flour
1 tsp baking powder
1⁄4 tsp salt
3⁄4 cup milk, your choice
Preparation
Preheat oven to 350° F. Place two Muffin Makers on two 1⁄4 Sheet Pans. Generously oil both Muffin Makers.  
In a large bowl, using an electric mixer on low-medium speed, cream butter and sugar. Add eggs, one at a time, until smooth. Beat in lemon peel and vanilla.  
In a separate bowl, combine flour, baking powder, and salt.  
Gradually add the flour mixture to the egg mixture. Batter will be very thick.  
Add milk; beat on low speed to avoid splashing.  
Spoon into moulds. Bake 25–30 min or until a toothpick inserted in the centre comes out clean. Cool in pan 10–15 min. Invert on a Cooling Rack and gently squeeze each muffin cup to release.  
Once cupcakes are completely cool, top with icing.  
Nutritional Information
Per serving (1 cupcake with 1 tbsp icing): Calories 270, Fat 11 g (Saturated 7 g, Trans 0.3 g), Cholesterol 30 mg, Sodium 105 mg, Carbohydrate 41 g (Fibre 0 g, Sugars 27 g), Protein 3 g.
Tips
Gluten-free? Swap flour with all-purpose gluten free flour. Best eaten the same day or freeze, if making ahead of time.