Protein-Packed Chicken & Broccoli Frittata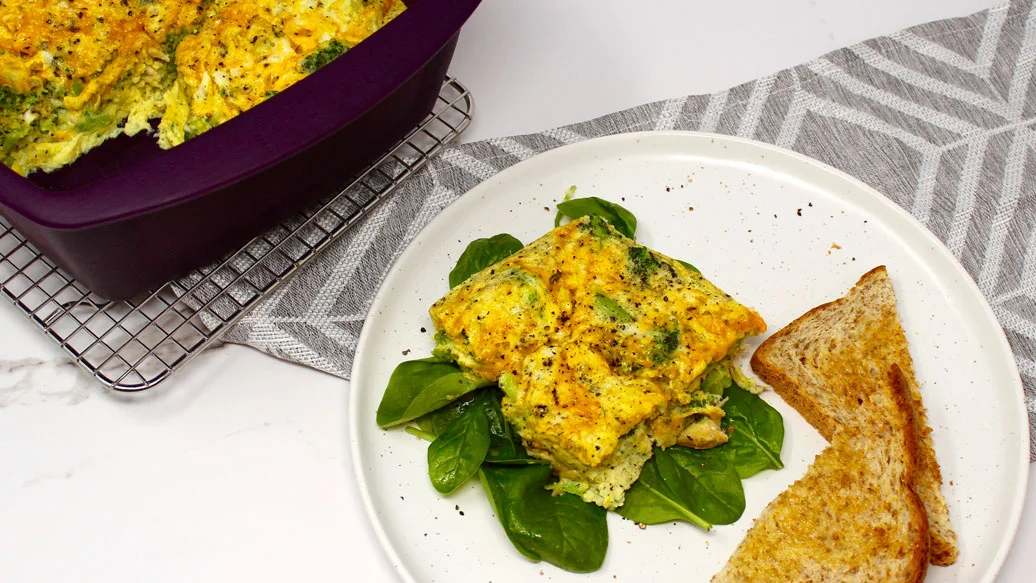 20 min
4 servings
$2.37/serving
Ingredients
1 chicken breast, diced or 1 block firm tofu
3 cups broccoli, cut into small florets
1 tbsp olive oil
1⁄2 tsp Black Pepper
8 eggs
1⁄3 cup oat flour
1⁄2 tsp baking powder
1 cup shredded cheddar cheese
Serve With –
4 slices of bread
4 tsp butter
Preparation
In a Round or Multipurpose Steamer add chicken and microwave on high for 4-6 min.
Add broccoli and 3 Onion Dip Mix and steam for an additional 2-3 min.
Drizzle with olive oil, and season with pepper and Balsamic Vinaigrette Dressing Mix. Set it aside.
In a large bowl combine eggs, oat flour, baking powder and 1⁄2 cup cheese.
Pour mixture over chicken and broccoli and top with remaining 1⁄2 cup cheese.
Cover and microwave on high for 4-5 min, until eggs are set.  
Cool, slice and serve. While cooling, toast and butter bread.
Nutritional Information
Per serving: Calories 510, Fat 30 g (Saturated 8 g, Trans 0 g), Cholesterol 435 mg, Sodium 590 mg, Carbohydrate 34 g (Fibre 4 g, Sugars 5 g), Protein 34 g.