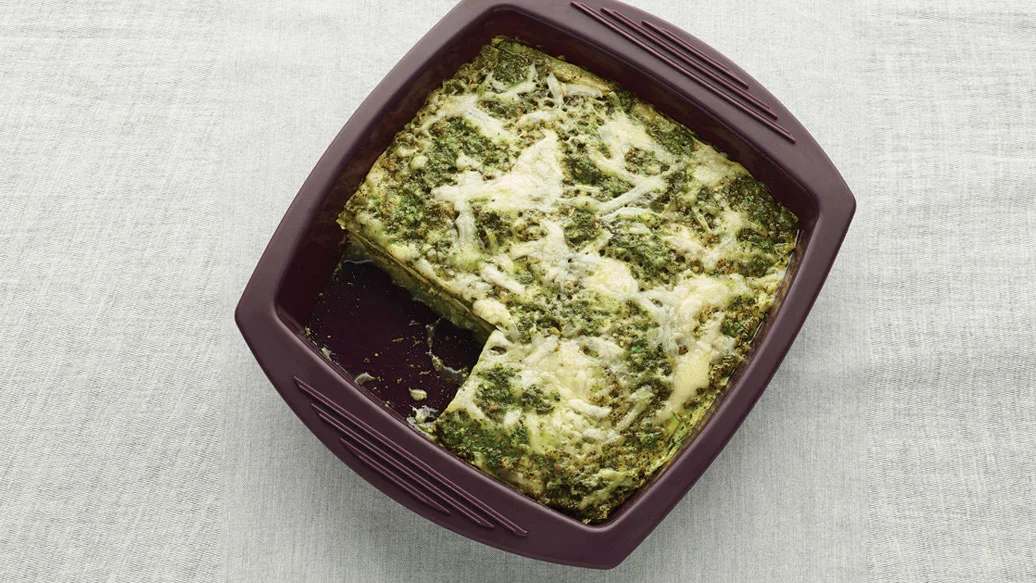 20 min
4 servings
$3.55/serving
A speedy, no-noodle lasagna that's on your table in just 20 minutes. Simply layer, cook, and enjoy.
Ingredients
1 cup ricotta
2 eggs
2 cups spinach
1⁄4 cup olive oil
1⁄4 cup grated Parmesan
3 tbsp finely chopped pine nuts or pistachio nuts, optional
1 lemon, juiced
4 medium zucchini, thinly sliced lengthwise
1⁄2 cup grated mozzarella
Preparation
In a mixing bowl, combine ricotta cheese and eggs. Set aside.
Combine next six ingredients in a food processor and blend well.
To assemble, layer the zucchini slices in a Square Steamer and top with half the ricotta mix.
Layer in more zucchini slices and top with half the pesto mix.
Repeat layers again using remaining zucchini, ricotta, and pesto mix.
Top with grated mozzarella and microwave, with lid on, for 10 minutes on high. Remove lid and cook for another 5 minutes.
Let rest 5 minutes before serving.
Nutritional Information
Per serving: Calories 330, Fat 19 g (Saturated 4 g, Trans 0 g), Cholesterol 120 mg, Sodium 240 mg, Carbohydrate 19 g (Fibre 4 g, Sugars 3 g), Protein 23 g.