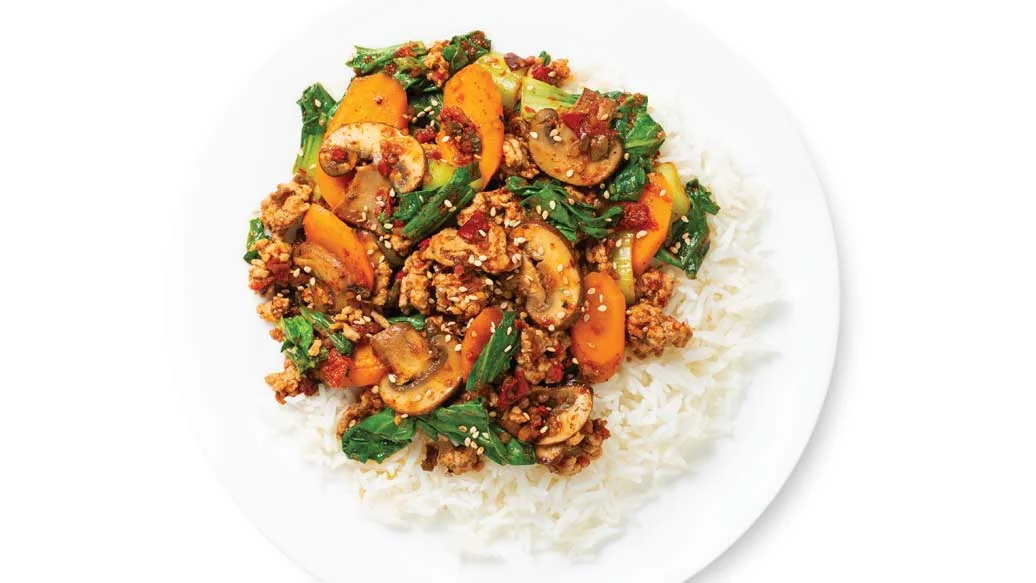 17 min
4 servings
$2.55/serving
Perfectly Balance Your Plate
This is a perfectly balanced plate. 
Ingredients
1 cup uncooked white rice
2 1⁄2 cups hot water
1 cup broth, your choice, divided
1 tbsp low-sodium soy sauce
1 tsp oil
1 lb (450 g) lean ground pork
2 medium carrots
1 pkg (8 oz/227 g) sliced mushrooms
1 small head bok choy
Preparation
Place rice in Multipurpose Steamer. Stir in hot water. Cover; microwave on high until tender and water has absorbed, 15 min.
In a bowl, whisk together seasoning, 3⁄4 cups broth and soy sauce. Set aside.
Meanwhile, heat oil in a wok over medium-high heat. Add pork; stir-fry for 5 min.
Meanwhile, peel carrots; slice diagonally. Trim and discard bok choy stem ends. Cut bok choy into bite-sized pieces.
Remove pork from wok and set aside. Reduce heat to medium, add carrots and mushrooms; sauté until carrots are tender-crisp, 3 min. 
Add seasoning mixture, bok choy, pork, and remaining 1⁄4 cup broth to wok. Stir fry until bok choy is just wilted. Serve over rice and sprinkle with topper, if desired.
Nutritional Information
Per serving: Calories 540, Fat 20 g (Saturated 7 g, Trans 0.2 g), Cholesterol 75 mg, Sodium 450 mg, Carbohydrate 59 g (Fibre 7 g, Sugars 9 g), Protein 32 g.
Tips
Replace bok choy with another dark green vegetable—kale, Napa cabbage, spinach, or broccoli.
Slash prep time by purchasing shredded carrots, look for them in the produce aisle of the grocery store.
Use soy ground round or lentils for a delicious vegetarian option.