Perfect Portion Baked Bagels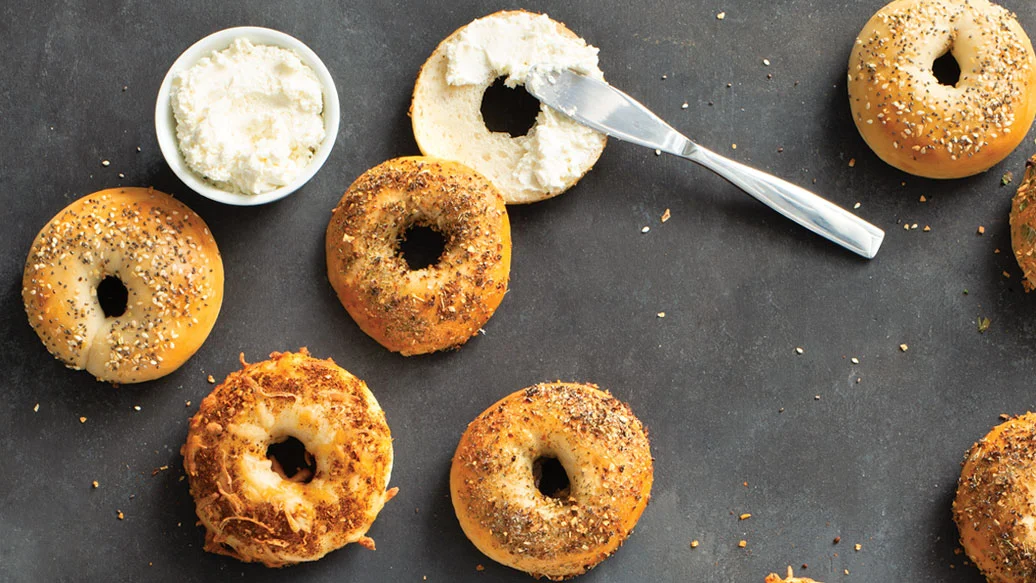 45 min
6 servings
$1.86/serving
Perfectly Balance Your Plate
Serve with 2 tsp nut butter, 1⁄2 cup 2% Greek yogurt and 1⁄2 cup berries.
Ingredients
vegetable oil, for brushing
1 tsp baking powder*
1 cup 2% plain Greek yogurt
1 egg, lightly beaten, optional
*If using Easy Peasy Bagel, Pancake & Waffle Mix, omit baking powder and salt.
Preparation
Preheat oven to 375° F. Place Perfect Portion Bagel & Donut Pan on Sheet Pan. Lightly brush bagel pan with oil; set aside. 
Place mix in a bowl (if using flour instead of mix, whisk together flour, baking powder, and salt). Make a well in centre; add yogurt. Using a fork, mix until combined. Dough will be crumbly. 
Knead dough in bowl a few times until it comes together in a ball. Dough should be tacky, but not sticky. Cover and let stand 10 min. 
Turn onto floured counter; knead 2–3 times, flatten slightly. Add more mix as needed, if dough is sticky. Cut into 6 wedges. Roll into ropes, each about 7" long. 
Lay ropes in pan; pinch ends to seal. Brush with egg, if using. Sprinkle with topper. 
Bake in oven until puffy and golden, 15–18 min. Cool; pop out. 
Nutritional Information
Per serving (1 bagel): Calories 160, Fat 1.5 g (Saturated 0.5 g, Trans 0 g), Cholesterol 5 mg, Sodium 320 mg, Carbohydrate 32 g (Fibre 3 g, Sugars 4 g), Protein 6 g.
Tips
Customize it! Replace 1 scoop flour or Easy Peasy Bagel, Pancake & Waffle Mix with Super Greens Smoothie Booster. 
Top it! Swap toppers—use Garlic & Onion Nutritional Yeast Topper or Smoky Roasted Tomato Nutritional Yeast Topper. 
Mexican Cheese Bagel: Stir 1⁄2 cup shredded cheese and 1 tsp Nacho Cheese Dip Mix into flour mixture. 
Nutrients are determined based on the use of Easy Peasy Bagel, Pancakes & Waffle Mix.