Paris Bistro Seafood Casserole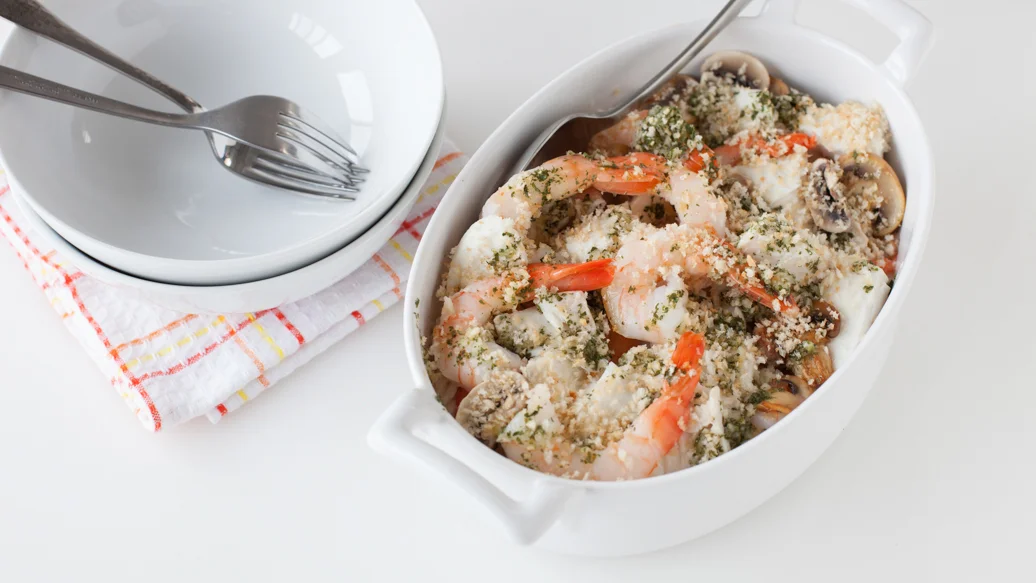 45 min
4 - 6 servings
$1.85/serving
Perfectly Balance Your Plate
Serve with a side salad and your favourite Epicure salad dressing.
Ingredients
vegetable oil, for brushing
1 lb (450 g) white fish, cut into bite-sized pieces
1⁄2 cup small cooked, deveined shrimp
3 tbsp fine dry breadcrumbs or gluten-free breadcrumbs
Sea Salt, to taste
Black Pepper, to taste
2 tbsp lemon juice
1⁄2 cup mushrooms, thinly sliced, optional
2 tbsp light mayonnaise
1⁄4 cup dry vermouth or white wine, optional
Preparation
Preheat oven to 350° F (175° C).
Lightly brush a 9" x 13" casserole dish with vegetable oil.
Arrange fish in an even layer. Top with shrimp, Paris Bistro Sauce, breadcrumbs, Sea Salt, Black Pepper, lemon juice, and mushrooms, if using.
Combine mayonnaise with 3 Onion Dip Mix, and dot over casserole. Evenly drizzle with dry vermouth, if using.
Bake, covered, for 20 minutes. Uncover and bake until fish flakes when tested, an additional 10 minutes.
Nutritional Information
Per serving: Calories 220, Fat 12 g (Saturated 2 g, Trans 0 g), Cholesterol 75 mg, Sodium 240 mg, Carbohydrate 5 g (Fibre 1 g, Sugars 1 g), Protein 21 g.