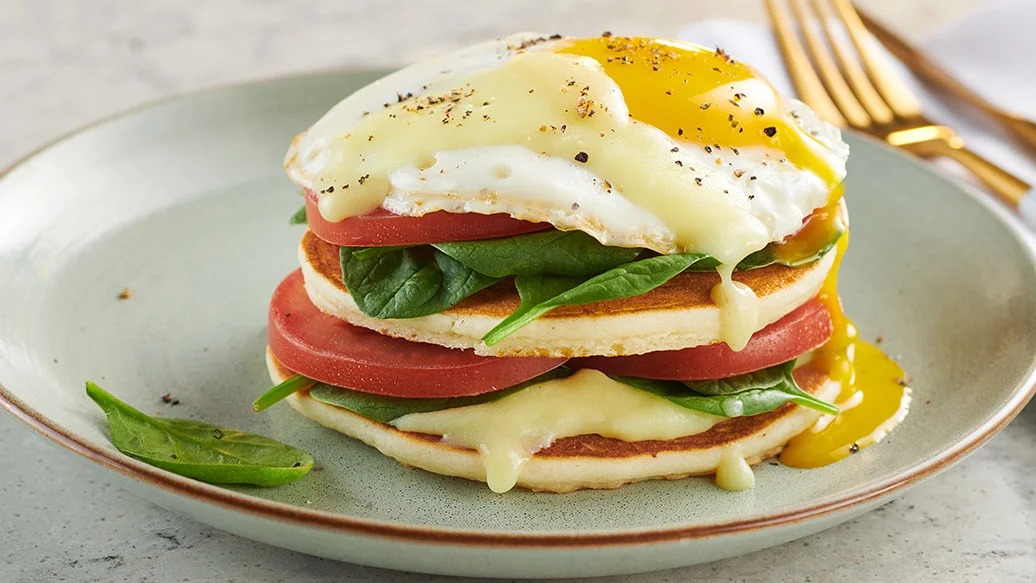 10 min
6 servings (about 12 pancakes)
$3.11/serving
Whip up a batch of Easy Peasy Pancakes ahead of time to quickly assemble breakfast in 10 minutes. Store prepared pancakes in the freezer and, when ready to reheat, pop them in the oven on Cooling Racks over Sheet Pan, or in the microwave or toaster.
Perfectly Balance Your Plate
Serve with 1 cup chopped fruit and berries.
Ingredients
1⁄2 cup unsalted butter
1 cup water
1 tbsp oil
6 eggs
1 large field tomato
2 cups baby spinach
Toppings (optional): 3 Onion Dip Mix, smoked salmon, sautéed mushrooms
Preparation
To make hollandaise sauce, microwave butter in 4-Cup Prep Bowl on high until melted, about 30—40 sec. Whisk in sauce mix and water until well combined. Microwave uncovered on high for 2 1⁄2 min, stirring halfway through and again at the end. Set aside.
Heat oil in Sauté Pan over medium-high heat. Crack in eggs; fry until eggs are done to your liking.
Thinly slice tomato.
To serve, place 1 warm pancake on each of six plates. Drizzle each pancake with 1 tbsp sauce, then top with tomato slices and spinach. Repeat layering with pancake, tomato and spinach on each plate; top with fried egg and additional 1 tbsp sauce.
Nutritional Information
Per serving (2 pancakes): Calories 460, Fat 24 g (Saturated 8 g, Trans 0.3 g), Cholesterol 350 mg, Sodium 630 mg, Carbohydrate 46 g (Fibre 4 g, Sugars 9 g), Protein 16 g.
Tips
Stir 1—2 tsp of your favourite Epicure Dip Mix into your pancake batter.
This recipe is a little high in sodium and fat. Choose meals that are lower in these nutrients for the rest of the day.