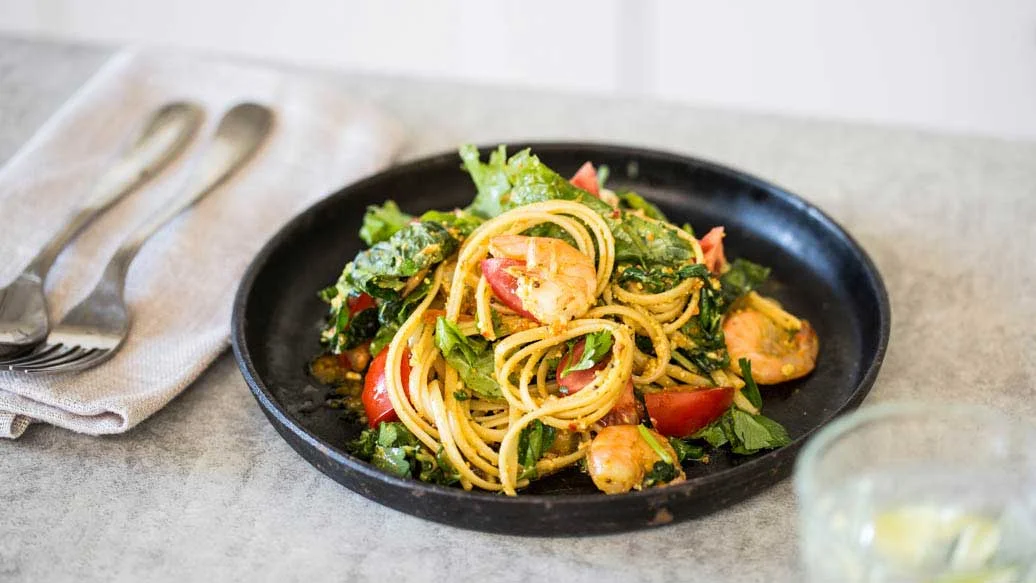 15 min
4 servings
$2.20/serving
Break out your trusty Multipurpose Pot for a hearty, no-mess meal ready in just 15 minutes! Cleanup is a breeze with this one dish dinner so you have time to spend your evening with your favourite people. Fresh, bright greens in the pasta offer a good source of vitamins and minerals, such as Vitamins B and C, iron, and magnesium. Use any extra leaves to whip up a side salad to balance out the plate! 
Perfectly Balance Your Plate
Serve with 2 cups mixed greens and 1 tbsp Epicure Salad Dressing.
Ingredients
3 3⁄4 cups water
1 can (14 oz/398 ml) diced tomatoes, drained, or 6 fresh tomatoes, diced
3⁄4 lb (340 g) linguine
1⁄2 lb (225 g) shrimp, cooked and deveined
2 cups mixed greens
1⁄4 cup Parmesan cheese, to taste
Preparation
Combine first four ingredients in a Multipurpose Pot over high heat.
Bring to boil, stirring and turning pasta often until al dente and water has evaporated, approximately 7–8 min. Add shrimp and stir for an additional 2–3 min.
Top with greens and Parmesan. Serve.
Nutritional Information
Per serving: Calories 360, Fat 3.5 g (Saturated 1 g, Trans 0.1 g), Cholesterol 115 mg, Sodium 220 mg, Carbohydrate 60 g (Fibre 6 g, Sugars 4 g), Protein 25 g.
Tips
Make It Gluten Free: Swap your regular pasta for a gluten-free version. 
Make It Vegetarian: Swap shrimp for smoked tofu.