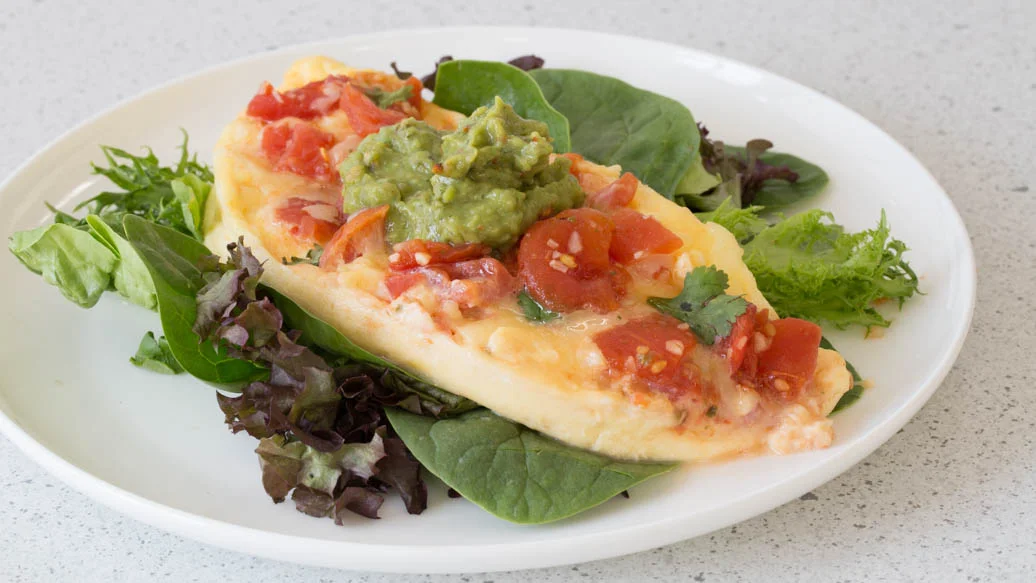 5 min
1 serving
$2.05/serving
Perfectly Balance Your Plate
Serve on a bed of 1⁄2 cup mixed greens, 1 slice toast, 2 tsp nut butter and small orange.
Ingredients
2 eggs
1⁄4 cup liquid egg whites
2 tbsp 2% milk
2 tbsp grated fresh mozzarella
Preparation
Microwave:
In a bowl, whisk eggs and milk until frothy; pour into lightly oiled Omelet Maker.
Top egg mixture with cheese and salsa.
Close lid; microwave on high 2–3 min. 
Loosen omelet with a Flipper, flip onto a plate, and serve topped with guacamole, if desired. 
Stove Top:
Whisk eggs and milk until frothy. 
In a lightly oiled frying pan, add eggs and stir, bringing edges into middle, until set. 
Remove pan from heat and top half the omelet with cheese. Fold the other side over the filling and slide onto a plate. Top with salsa and guacamole, if desired. 
Nutritional Information
Per serving: Calories 270, Fat 16 g (Saturated 6 g, Trans 0 g), Cholesterol 505 mg, Sodium 460 mg, Carbohydrate 8 g (Fibre 1 g, Sugars 2 g), Protein 23 g.