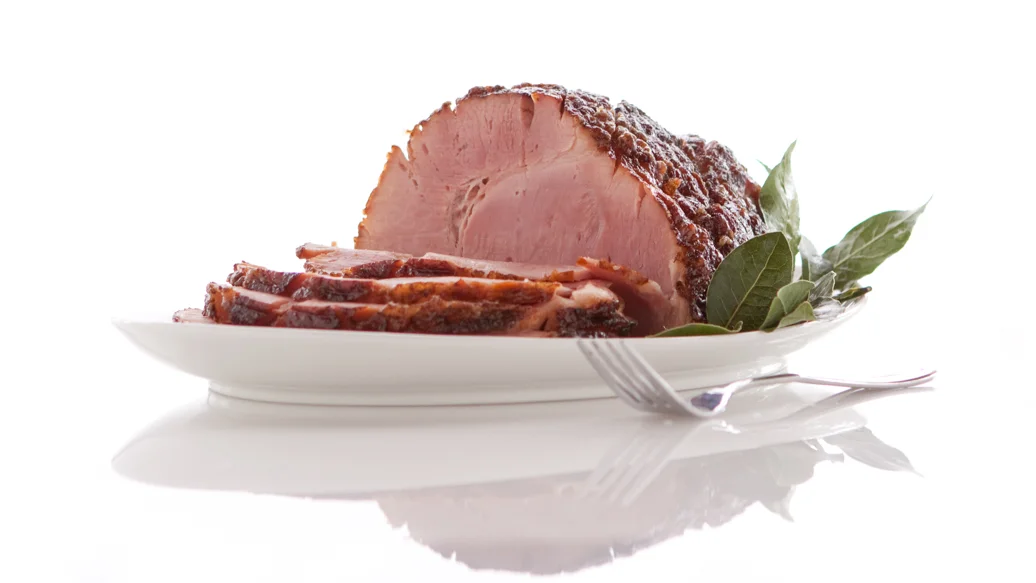 2 hrs & 15 min
15 servings
$3.25/serving
The warm, fragrant spices that give mulled drinks such rich flavour are amazing with roast meat — the aroma alone is mouth-watering!
Ingredients
1 1⁄2 cups apple cider or apple juice
1⁄4 cup Mulling Spices
1 (6-8 lb/3-4 kg) cooked, smoked boneless ham
3 cups brown sugar, divided
2 tbsp maple syrup or honey
2 tbsp orange juice
Preparation
Preheat oven to 325° F (160° C).
Bring cider and Mulling Spices to a boil in Multipurpose Pot - 8 cup. Reduce heat; cover and simmer for 15 minutes to develop flavour. Strain, reserving liquid. Discard solids.
Place ham in roasting pan (without rack) or casserole dish just large enough to hold it. Score top and sides in a diamond pattern. Firmly pat 1 cup sugar over top and sides.
Pour cider into pan. Loosely tent with foil and bake 30 minutes. Remove foil and, using a turkey baster, baste with pan juices. Cover and continue baking for 30 minutes.
Meanwhile, in a Multipurpose Pot, stir 2 cups sugar with maple syrup and orange juice over medium heat, until melted.
Remove foil, and spoon sugar glaze overtop ham. Bake uncovered, basting frequently with pan juices, for an additional hour, until a dark glaze forms.
Discard pan juices and let ham stand for 10 minutes before slicing.
Nutritional Information
Per serving: Calories 550, Fat 16 g (Saturated 6 g, Trans 0 g), Cholesterol 190 mg, Sodium 140 mg, Carbohydrate 35 g (Fibre 0 g, Sugars 34 g), Protein 62 g.