Mighty Mini Breakfast Bites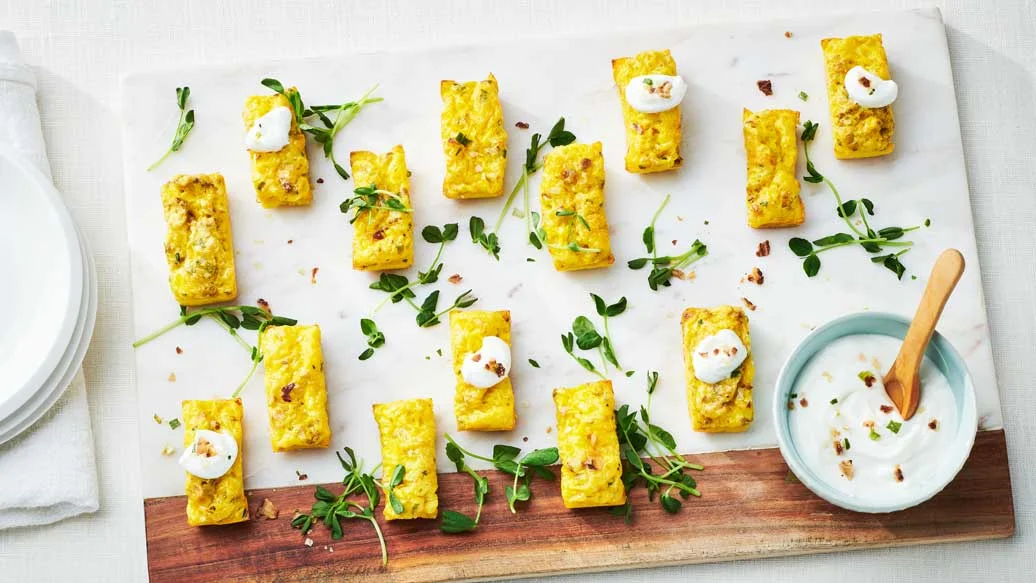 20 min
24 pieces for 6 servings
$1.07/serving
Perfectly Balance Your Plate
Serve with 1 slice whole-wheat toast with 2 tsp nut butter, and 1 cup mixed berries or 1 piece of sliced fruit. 
Preparation
Generously oil wells in two Mini Perfect Petites. Divide and sprinkle dip mix into bottom of each well, as best you can. 
In a large measuring cup, whisk together eggs and mustard, if using.  
MICROWAVE
Remove turntable plate from microwave to counter. Place one Mini Perfect Petite on turntable. Pour egg mixture into wells, filling to the top. Microwave on high for 1 min 45 sec or until cooked through. Fill second petite and repeat. 
OVEN
Place petites on two Sheet Pans, then fill with egg mixture. Bake in top and bottom third of preheated 350° F oven for 18–20 min or until cooked through.  
When pans are cool enough, gently remove bites. Place four on each plate and divide yogurt over top. Sprinkle with toppings, if using. 
Nutritional Information
Per serving (4 bites): Calories 150, Fat 9 g (Saturated 3 g, Trans 0 g), Cholesterol 310 mg, Sodium 150 mg, Carbohydrate 4 g (Fibre 1 g, Sugars 1 g), Protein 13 g.
Tips
Swap in your favourite Epicure seasoning and minced veggies such as bell pepper, broccoli florets, or finely chopped spinach. Also great with crumbled feta or grated cheddar.