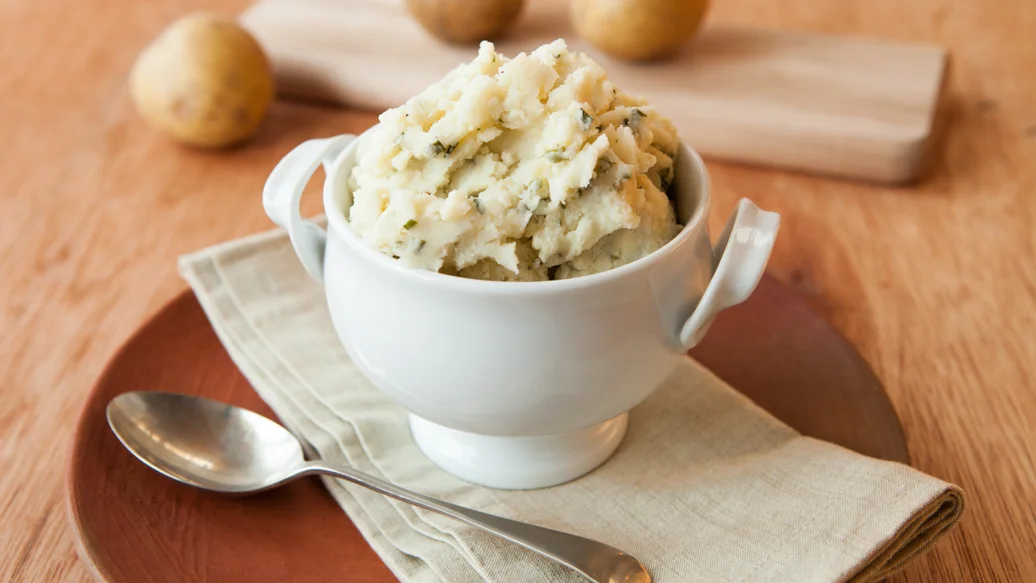 40 min
6 servings
$0.43/serving
These mashed potatoes may be singing the blues, but you won't be!
Ingredients
3 lbs (1.5 kg) russet, baking or Yukon Gold potatoes
1⁄4 cup butter
3⁄4 cup warm milk
Sea Salt, to taste
Black Pepper, to taste
1⁄3 cup crumbled blue cheese
Preparation
Place potatoes in Multipurpose Pot and cover with cold water.
Bring to a gentle boil and cook approximately 20 minutes, or until tender but still retaining shape.
Drain and mash thoroughly. Beat in butter, milk and Creamy Ranch Dip Mix until well combined and fluffy.
Season with Salt and Pepper. Stir in blue cheese.
Nutritional Information
Per serving: Calories 270, Fat 9 g (Saturated 5 g, Trans 0 g), Cholesterol 25 mg, Sodium 90 mg, Carbohydrate 44 g (Fibre 4 g, Sugars 2 g), Protein 6 g.