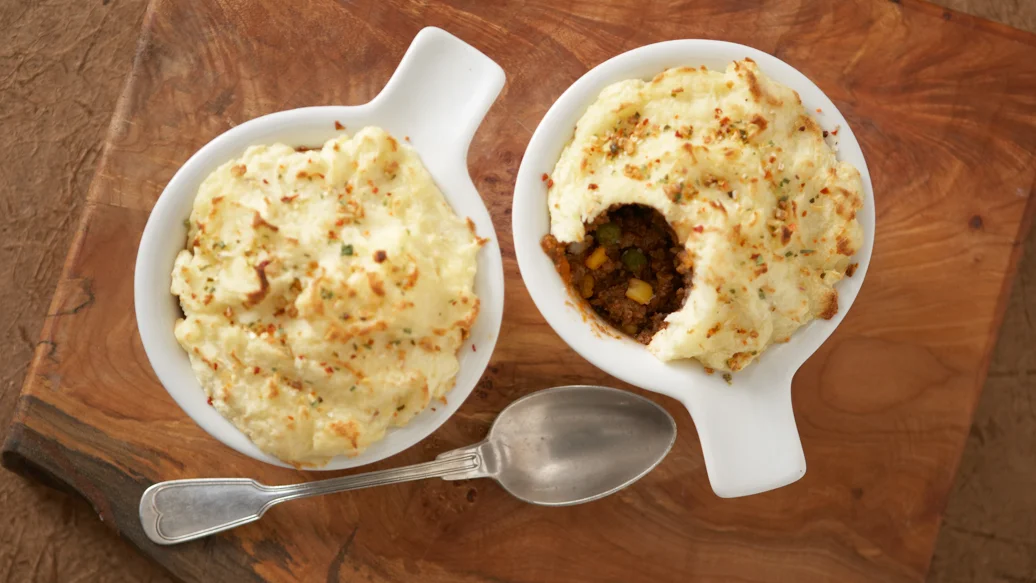 1 hr 15 min
8 servings
$2.20/serving
Marinara Sauce is rich in lycopenes – thanks to the tomatoes – which is a powerful antioxidant offering cancer protection properties.
Perfectly Balance Your Plate
Serve with an in-season side salad and prepared Epicure Dressing.
Ingredients
3 lbs (1.5 kg) potatoes, peeled and quartered
1 1⁄2 lbs (675 g) lean ground beef or turkey
2 tbsp French Onion Dip Mix
1 1⁄2 cups frozen mixed vegetables
3⁄4 cup buttermilk
Preparation
Boil potatoes in salted water until tender in Multipurpose Pot.
Pre-heat oven to 350° F (175° C).
Meanwhile, cook meat in a frying pan until no longer pink. Drain excess fat.
Stir in French Onion Dip Mix and Beef & Steak Seasoning.
Stir in Marinara Sauce, Gravy and vegetables. Bring to a boil and season with Pepper. Spoon into a 9" x 13" casserole dish and set aside.
Drain potatoes and mash. Stir in Herb & Garlic Dip Mix and buttermilk. Spoon onto meat mixture.
Bake for 45 minutes, or until potatoes are slightly golden.
Nutritional Information
Per serving: Calories 410, Fat 13 g (Saturated 5 g, Trans 0 g), Cholesterol 70 mg, Sodium 240 mg, Carbohydrate 42 g (Fibre 6 g, Sugars 4 g), Protein 31 g.