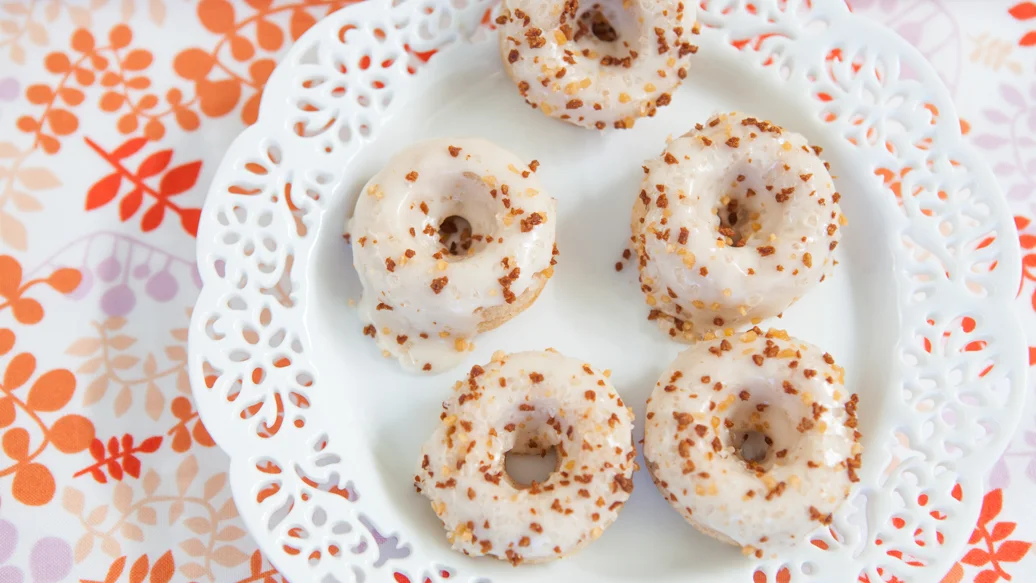 30 min
48 mini donuts
$0.15/serving
Ingredients
GLAZE
2 cups icing sugar
1⁄3 cup maple syrup
1⁄4 cup heavy cream
Maple Bacon Sea Salt, to taste
DONUTS
2 cups all-purpose flour
1 tbsp baking powder
1 tsp Sea Salt, finely ground
1 cup unsalted butter, softened
1 cup sugar
2 eggs
1⁄2 cup low-fat milk, divided
1 tsp vanilla extract
Preparation
GLAZE
Using Piano Wire Whisk, whisk all ingredients until smooth. Set aside.
DONUTS
Preheat oven to 400° F (205°C).
In a bowl, using Piano Wire Whisk, whisk first 4 ingredients.
In a second bowl, using an electric mixer, beat butter and sugar until creamy. Add eggs one at a time, beating well after each addition.
Slowly mix in dry mixture and milk in batches: 3 batches dry; 2 batches milk mixed with vanilla extract. Be careful not to over mix.
Using a basting brush, lightly brush Mini Donut Mold with vegetable oil. Pipe or spoon dough into Mold, filling wells 2⁄3 full.
Bake until a toothpick comes out clean, approximately 12–15 minutes. Repeat with remaining batter.
To glaze, dip one side of each donut in glaze, and twist clockwise to coat. Place plain side down on a serving platter, and finish with Maple Bacon Sea Salt. Let glaze set before serving, approximately 5 minutes.
Nutritional Information
Per serving: Calories 90, Fat 3.5 g (Saturated 2 g, Trans 0.1 g), Cholesterol 20 mg, Sodium 45 mg, Carbohydrate 14 g (Fibre 0 g, Sugars 10 g), Protein 1 g.