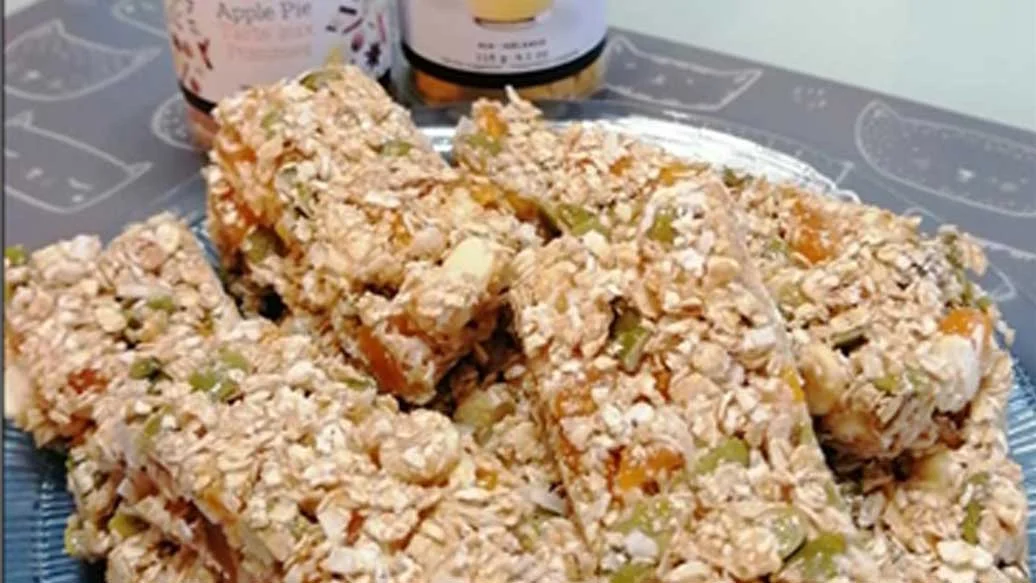 4 hrs & 5 min (includes 4 hrs chilling time)
8 servings
$0.80/serving
Thank you, Marie-Eve Péladeau, for this recipe!
Ingredients
1 cup dry instant oats
1⁄4 cup white chocolate chips
1⁄4 cup pumpkin seeds, toasted or untoasted
1⁄4 cup dried mango, coarsely chopped
1⁄4 cup honey
2 tbsp unsweetened coconut flakes
1 tsp Mango Lassi Mix
Preparation
In a square container, combine oats, chocolate chips, pumpkin seeds, mango, honey, coconut, Apple Pie Spice, and mix. Using a spoon, press down firmly to pack down. 
Refrigerate 4 hrs until very firm. Cut into eight bars. Store in refrigerator up to 1 week. 
Nutritional Information
Per serving (1 bar): Calories 150, Fat 5 g (Saturated 2 g, Trans 0 g), Cholesterol 0 mg, Sodium 15 mg, Carbohydrate 24 g (Fibre 2 g, Sugars 15 g), Protein 3 g.