Luscious Lemon Curd Donuts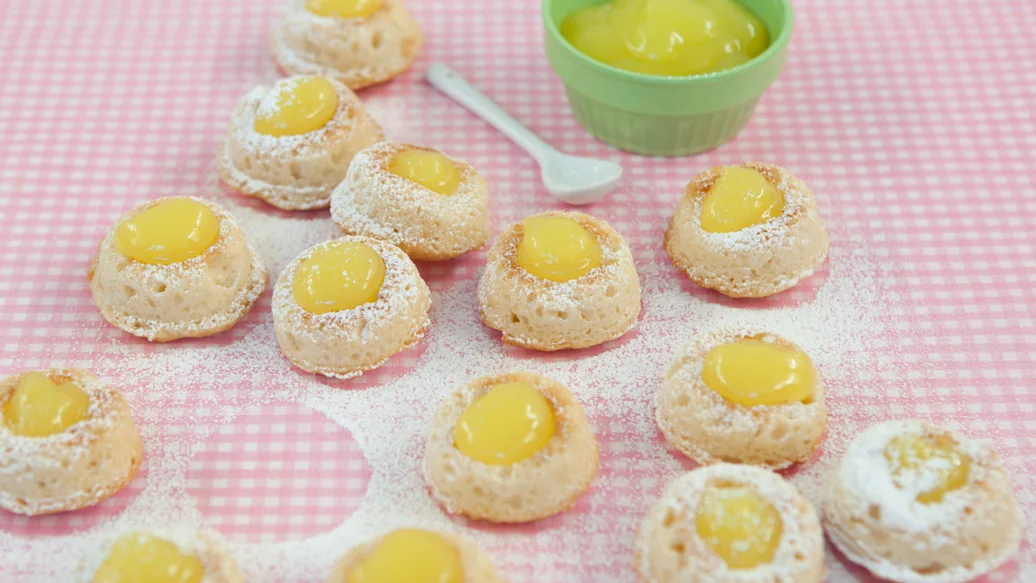 38 - 45 min
48 mini donuts
$0.17/serving
Ingredients
LEMON CURD
3⁄4 cup fresh lemon juice
1 tbsp grated lemon zest
3⁄4 cup sugar
3 eggs
1 cup unsalted butter, cubed
DONUTS
2 cups all-purpose flour
1 tbsp baking powder
1⁄2 tsp Sea Salt, finely ground
3⁄4 cup unsalted butter, softened
1 cup sugar
2 eggs
1⁄2 cup low-fat milk, divided
1 tsp vanilla extact
Preparation
LEMON CURD
In a 2-quart (2 L) saucepan, or in a double boiler, combine all ingredients. Using a Piano Wire Whisk, whisk over medium-low heat until thick enough to hold Whisk marks and first bubble appears on surface, approximately 6–10 minutes. The Lemon Curd becomes thicker the longer it sits after cooking, or if it is chilled. Set aside.
DONUTS
Preheat oven to 400° F (205°C).
In a bowl, using Piano Wire Whisk, whisk first 4 ingredients.
In a second bowl, using an electric mixer, beat butter and sugar until creamy. Add eggs one at a time, beating well after each addition.
Slowly mix in dry mixture and milk in batches: 3 batches dry; 2 batches milk mixed with vanilla extract. Be careful not to over mix.
Using a basting brush, lightly brush Mini Donut Mold with vegetable oil. Pipe or spoon dough into Mini Donut Mold, filling wells 2⁄3 full.
Bake until a toothpick comes out clean, approximately 12–15 minutes. Repeat with remaining batter.
TO ASSEMBLE
Spoon Lemon Curd into the center of each doughnut, and sprinkle with icing sugar.
Nutritional Information
Per serving (1 mini donut): Calories 110, Fat 6 g (Saturated 3.5 g, Trans 0.1 g), Cholesterol 40 mg, Sodium 70 mg, Carbohydrate 14 g (Fibre 0 g, Sugars 6 g), Protein 2 g.
Tips
If you don't have a double boiler, simply place a medium metal bowl over a medium saucepan filled with simmering water, then whisk all ingredients in the bowl.