Lighten-up Shepherd's Pie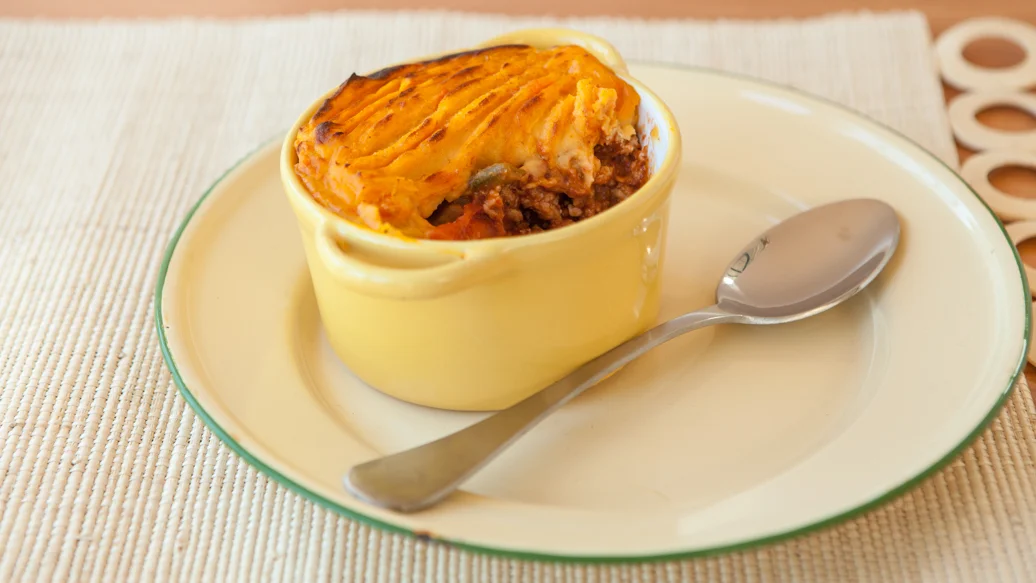 1 hour
10 servings
$2.20/serving
Jazz up your Shepherd's Pie and optimize nutrition without sacrificing taste. Using ground poultry greatly reduces saturated fat in this recipe, and sweet potatoes boost antioxidants, which could be the secret weapon to prevent cancer and heart disease.
Ingredients
3 lbs (1.3 kg) sweet potatoes or yams
1 1⁄2 lbs (675 g) ground turkey or chicken
2 tbsp French Onion Dip Mix
2 tbsp BBQ Sauce Mix
2 tbsp flour
1 can (14 oz/398 ml) tomato sauce
1 1⁄2 cups frozen mixed vegetables
1 cup buttermilk
Preparation
Preheat oven to 350° F (175° C).
In Multipurpose Pot, boil potatoes in salted water until tender. Meanwhile, cook meat in a frying pan until no longer pink. Drain excess fat.
Stir in French Onion Dip Mix, Barbecue Seasoning, and flour. Cook 5 minutes, stirring frequently.
Stir in tomato sauce, Broth and vegetables. Bring to a boil and season to taste with Salt and Pepper. Spoon into a 9" x 13" casserole dish or divide mixture between petites cocottes and set aside.
Drain sweet potatoes and mash. Stir in 3 Onion Dip Mix and buttermilk. Spoon over meat mixture and evenly spread out.
Bake 45 minutes, or until filling is bubbly.
Nutritional Information
Per serving: Calories 260, Fat 1.5 g (Saturated 0 g, Trans 0 g), Cholesterol 30 mg, Sodium 190 mg, Carbohydrate 40 g (Fibre 7 g, Sugars 13 g), Protein 22 g.