Le Taj Seafood with Angel Hair Pasta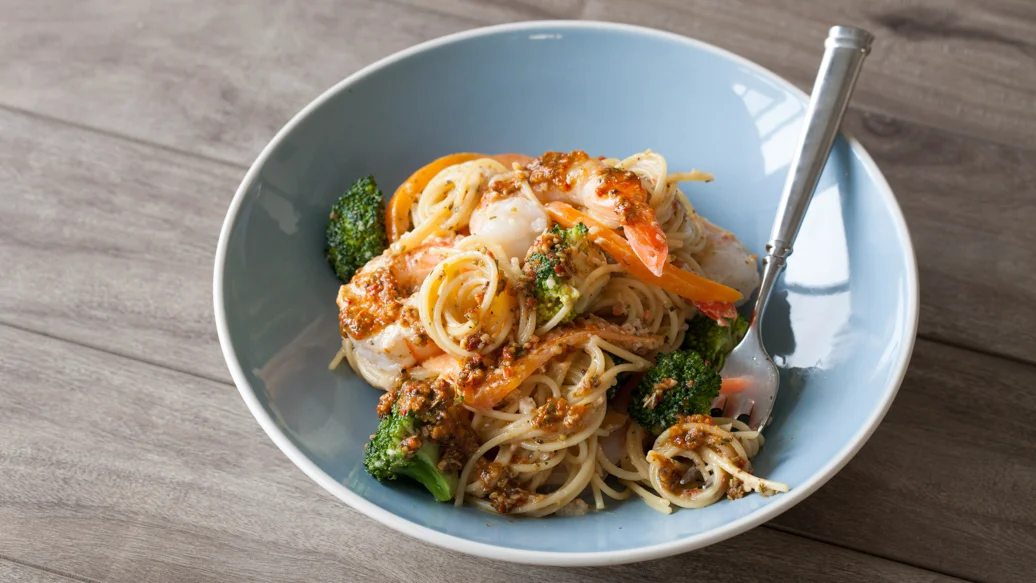 25 min
4 - 6 servings
$1.36/serving
Using non-fat evaporated milk is a great way to add a creamy texture without the added fat.
Ingredients
1 lb (450 g) angel hair pasta
2 tsp vegetable oil
12 - 16 fresh or frozen shrimp or scallops
1⁄2 cup orange juice
1 cup mixed frozen small-cut vegetables
1⁄4 cup non-fat evaporated milk
1 recipe prepared Le Taj Sauce
lemon wedges, to garnish
Preparation
In a Multipurpose Pot, cook pasta according to package directions. Strain in removable strainer, return to pot, cover, and set aside.
Heat a frying pan to medium-high. Add oil and sear shrimp or scallops for 2–3 minutes each side. Remove from pan.
Reduce heat to medium and add Toasted Onion, Vegetable Broth, orange juice, and vegetables. Heat to a simmer and cook approximately 5 minutes. Add non-fat evaporated milk, and simmer gently for 2 additional minutes.
Stir in sauce. Toss sauce with pasta, and serve with a lemon wedge.
Nutritional Information
Per serving: Calories 400, Fat 8 g (Saturated 1 g, Trans 0 g), Cholesterol 20 mg, Sodium 115 mg, Carbohydrate 66 g (Fibre 3 g, Sugars 7 g), Protein 14 g.
Tips
Just before serving, loosen cooked, drained pasta with approximately 1⁄2 cup warm prepared Vegetable Broth. It's like magic… and it adds extra flavour, too!