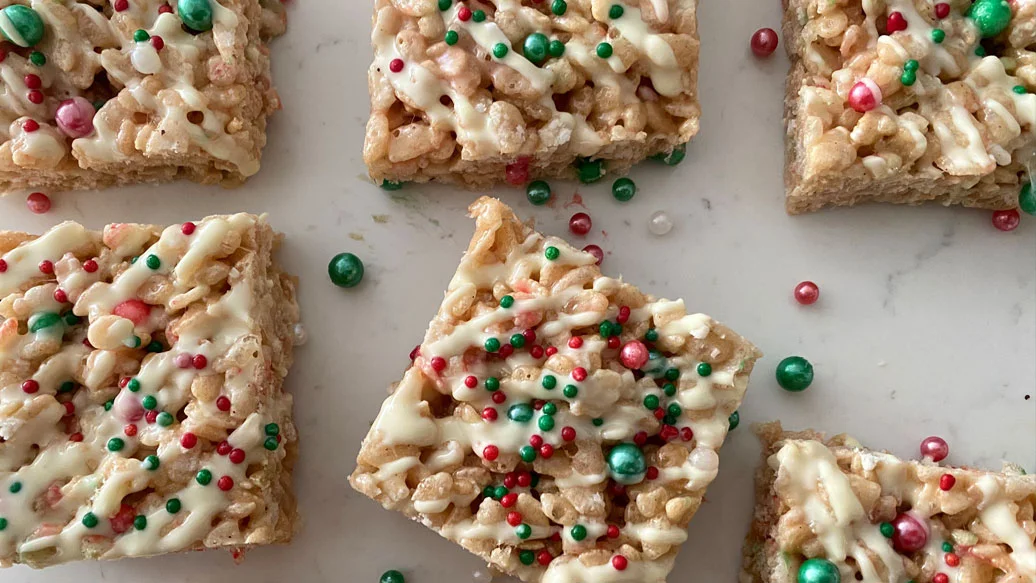 40 min (includes 30 min cooling)
16 servings
$0.60/serving
Super fast 'n easy to whip up, these'll be ready in a snap, crackle, and pop. Bring 'em to a party, give as a gift, or have on hand for a snowy night in! 
Ingredients
1⁄2 cup unsalted butter
1 bag (14 oz/400 g) mini marshmallows
1⁄2 tbsp Pumpkin Pie Spice
1 tsp vanilla extract
6 cups crispy rice cereal
1⁄2 cup holiday sprinkles
Topping (optional): pumpkin glaze (see Tip) or melted white chocolate 
Preparation
Lightly grease a 9" X 13" baking dish.  
Melt butter in Sauté Pan over medium heat. Add marshmallows, spice, and vanilla extract to pan; stir continuously until melted and well combined. 
Remove pan from heat. Fold in rice cereal and sprinkles until combined. Do not over mix. 
Gently press cereal mixture into baking dish. Let cool completely, then cut into 16 equal pieces and drizzle with glaze or melted chocolate, if desired. 
Nutritional Information
Per serving: Calories 200, Fat 7 g (Saturated 5 g, Trans 0.3 g), Cholesterol 15 mg, Sodium 80 mg, Carbohydrate 34 g (Fibre 0 g, Sugars 19 g), Protein 1 g.
Tips
To make a glaze, combine 1 cup icing sugar with 2 tbsp milk, your choice, 1 tsp Pumpkin Pie Spice, and 1⁄4 tsp vanilla extract until smooth.  
Got a grown-up crowd? Stir in 2–3 tbsp bourbon, brandy, or dark rum along with the spice and vanilla.