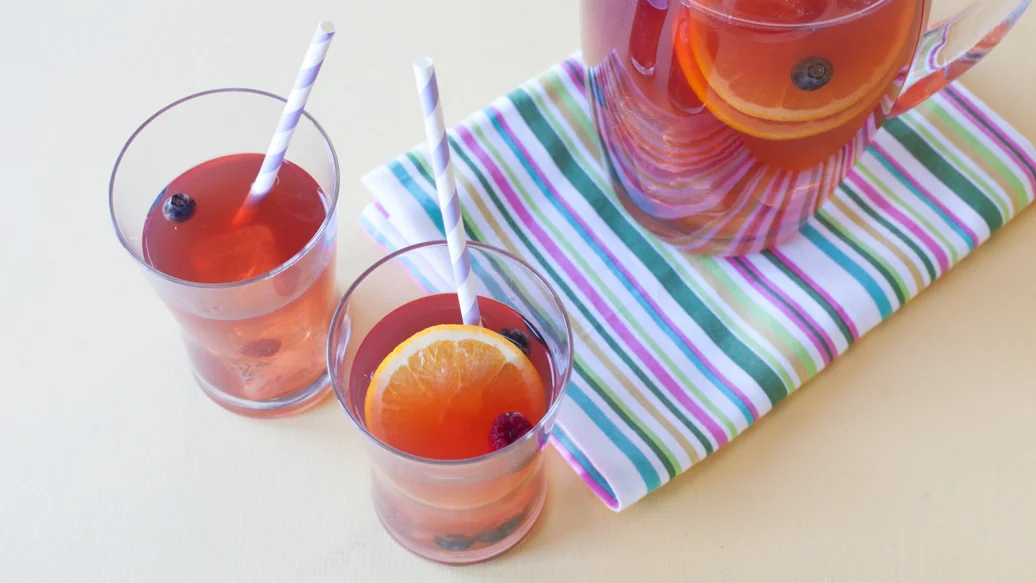 6 min
4 - 6 servings
$0.89/serving
We call it "Kids Party" tea because it's fun and super pretty! You don't have to be a kid to enjoy this refreshing iced tea!
Ingredients
6 cups Pink Lady Tea, or tea of your choice
1 cup apple juice
2 lemons, 1 thinly sliced, 1 juiced
2 oranges, 1 thinly sliced, 1 juiced
fresh mint springs, for garnish
1⁄2 cup frozen berries
Preparation
In a large jug, mix all ingredients except berries.
Pour into serving glasses, then garnish with a sprig of mint and a few frozen berries to keep the drink cold as well as add flavour.
Nutritional Information
Per serving: Calories 50, Fat 0 g (Saturated 0 g, Trans 0 g), Cholesterol 0 mg, Sodium 0 mg, Carbohydrate 13 g (Fibre 2 g, Sugars 10 g), Protein 1 g.
Tips
If you like your iced tea a little sweeter, add a bit of honey or sweetener to the brewed Tea as it cools. Try using sparkling apple juice for a little effervescence.