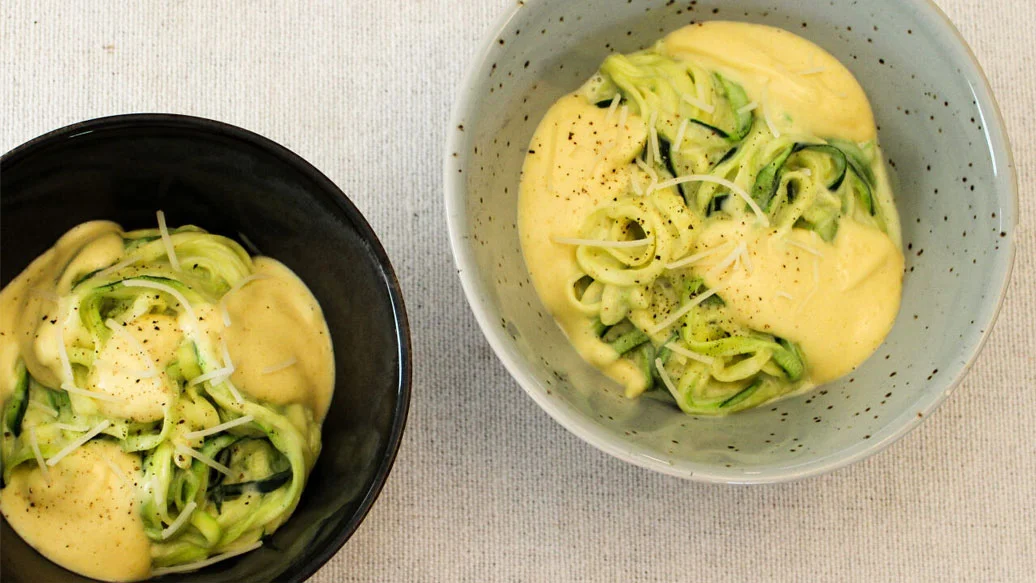 15 min
6 servings
$1.67/serving
If you're following low-carb diet, mac & cheese has been a thing of the past…until now! Satisfy your pasta cravings with this keto mac & cheese that has the BEST creamy sauce. We've swapped pasta for zucchini noodles because we know you have an abundance of them in your garden this summer. Feel free to swap in your favourite store-bought, keto-friendly pasta instead. This dish has only 11 grams of net carbs, and you only need 3 ingredients to make it—dinnertime win! 
Ingredients
3 large zucchini
1 pkg Modern Mac Seasoning
2 cups whipping cream or coconut milk
Preparation
Using a vegetable spiralizer, form zucchini into thin noodles. You should have about 9 cups.  
Place zucchini spirals in Multipurpose Steamer. Cover and microwave on high 4–5 min, until hot and tender-crisp. 
Meanwhile, place seasoning in a large measuring cup or bowl. Gradually whisk in cream. It will be thick. Don't worry if mixture is lumpy; the lumps will melt when sauce is heated. 
Remove cooked zucchini from Steamer, strain excess liquid, and return zucchini to Steamer. Cover to keep warm; set aside.  
Microwave seasoning mixture, uncovered, on high 3–4 min, or until sauce is thick and bubbly, whisking halfway through to remove any lumps. Add sauce to steamer with zucchini; stir to combine.  
Nutritional Information
Per serving (about 1 cup): Calories 280, Fat 26 g (Saturated 16 g, Trans 0 g), Cholesterol 90 mg, Sodium 340 mg, Carbohydrate 11 g (Fibre 2 g, Sugars 3 g), Protein 5 g.
Tips
Fresh zucchini unavailable? Swap with frozen zucchini spirals. Look for them in the frozen vegetable section of the grocery store.