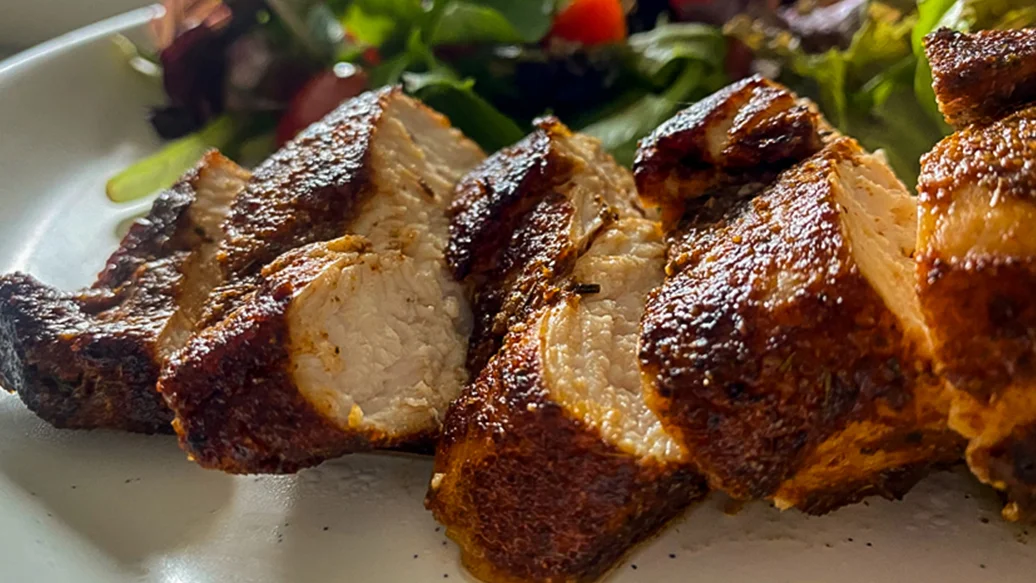 28 min
8 servings
$2.54/serving
It's time for overcooked, under-seasoned chicken to make its exit. Here's our version of "Juicy Chicken 101", inspired by the viral Tik Tok recipe for moist, tender, and juicy chicken, every time! Whether you're all about meal prep or need a quick, easy weeknight dinner, this recipe is for you. The Sauté Pan is oven-safe, but if you don't have one, a cast iron pan works, too!  
Perfectly Balance Your Plate
Serve with a dinner roll or 1 cup cooked pasta, and 2 cups leafy greens with 1 tbsp Epicure Dressing.
Ingredients
2 lbs (900 g) boneless, skinless chicken breasts, about 4
1 tbsp oil
Preparation
Preheat oven to 400° F. 
Using a paper towel, pat chicken dry. Rub both sides of chicken with seasoning.  
Heat oil in Sauté Pan over medium-high heat. Add chicken; cook 5 min. 
Flip chicken. Immediately transfer pan to oven. Bake 13–15 min, or until cooked through. Let rest 5 min.  
Slice chicken. Serve on salads, power bowls, pasta, and more!  
Nutritional Information
Per serving: Calories 160, Fat 5 g (Saturated 1 g, Trans 0 g), Cholesterol 85 mg, Sodium 220 mg, Carbohydrate 2 g (Fibre 0 g, Sugars 0 g), Protein 26 g.
Tips
Cook once, eat twice! Freeze half of the batch and pull it out when you're in a pinch. 
Depending on the thickness of the chicken breasts, the roasting time will vary. To test for doneness, insert an instant-read thermometer into the thickest part of the breast, it should register at 165° F.