Italian Meatball Sandwiches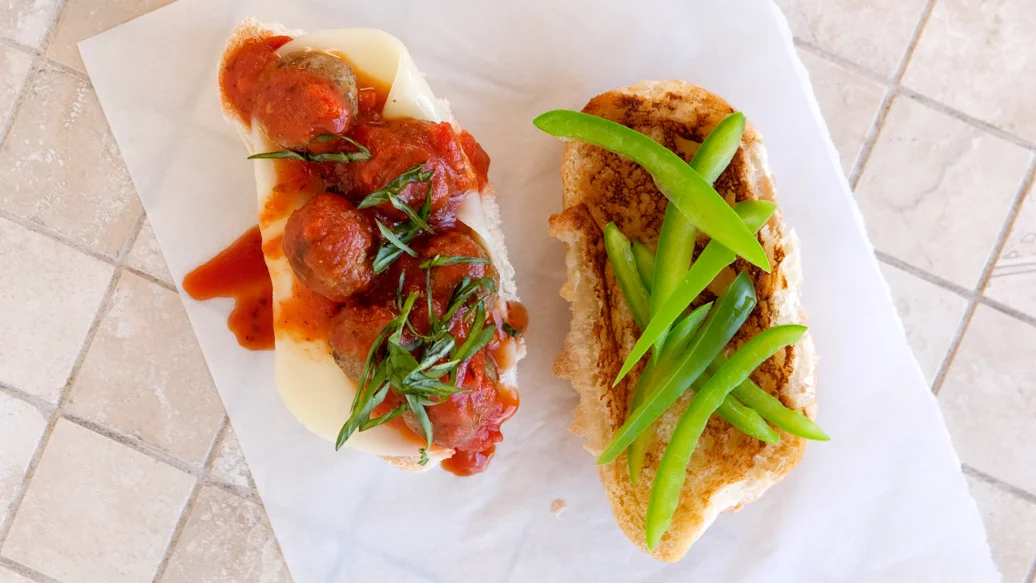 40 min
6 servings
$2.30/serving
Using lean ground poultry in recipes is a great way to reduce intake of artery-clogging saturated fat.
Ingredients
1 slice bread
1⁄3 cup milk
1 lb (450 g) ground turkey or chicken
1 tbsp Classic Meatloaf Seasoning
1 egg
6 large bread rolls
1 cup grated provolone or Parmesan cheese
Preparation
Preheat oven to 400° F (205° C).
Trim crusts from bread. Tear into small pieces and place in a bowl. Add milk and press with a fork until all liquid is absorbed.
Crumble in turkey and add 3 Onion Dip Mix, Meatloaf Seasoning and egg. Gently knead to combine, then form into 1" balls.
Place meatballs on parchment-lined Sheet Pan. Bake approximately 20 minutes, until cooked through.
Meanwhile, heat Marinara Sauce until warm. Place rolls on plates and layer with meatballs and cheese. Then generously spoon tomato sauce overtop. Serve immediately.
Nutritional Information
Per serving: Calories 340, Fat 7 g (Saturated 2.5 g, Trans 0 g), Cholesterol 80 mg, Sodium 410 mg, Carbohydrate 38 g (Fibre 3 g, Sugars 3 g), Protein 31 g.