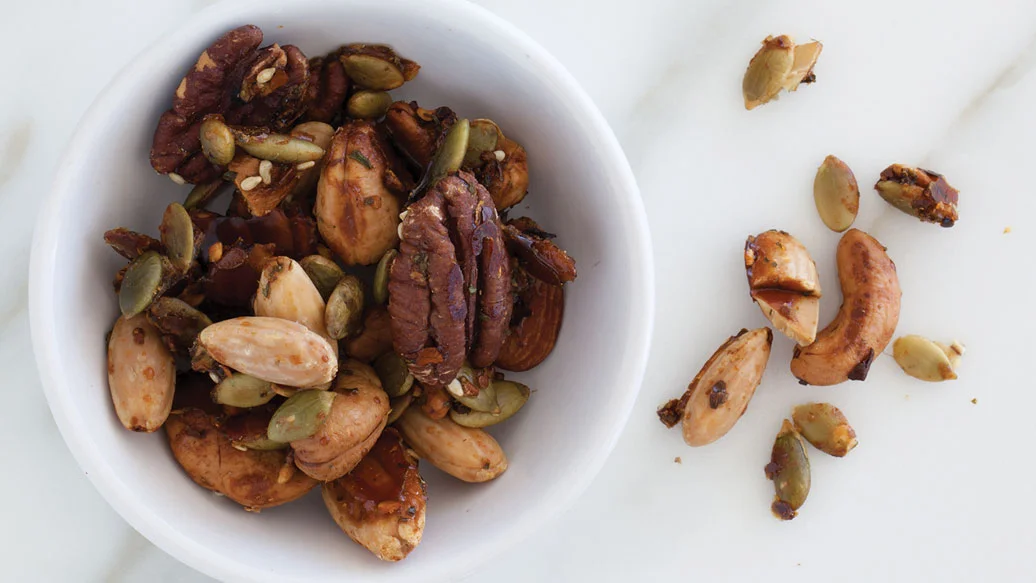 28 - 38 min
20 servings
$0.63/serving
Ingredients
1 cup each almonds, pecan halves, and walnut halves
1⁄2 cup each pepitas and sunflower seeds
3 tbsp liquid honey or maple syrup
1 tbsp olive oil
Preparation
Preheat oven to 350° F. Line a Sheet Pan with a Sheet Pan Liner.
In bowl, combine nuts, pepitas, and sunflower seeds; drizzle with honey and oil. Toss to mix. Add seasoning and topper; toss to evenly mix. Spread out on Sheet Pan Liner.
Roast, stirring occasionally, until browned, 20–30 min.
Nutritional Information
Per serving: Calories 180, Fat 15 g (Saturated 1.5 g, Trans 0 g), Cholesterol 0 mg, Sodium 25 mg, Carbohydrate 7 g (Fibre 2 g, Sugars 3 g), Protein 4 g.
Tips
After roasting, toss mixture with dried cranberries or slivered apricots to layer in fruity flavour.
Make Ahead: Store nuts in an airtight container, at room temperature, up to 3 days. If necessary, reheat in 350° F oven to re-crisp.