Harvest Pumpkin Soup with Swiss Cheese & Garlic Croutons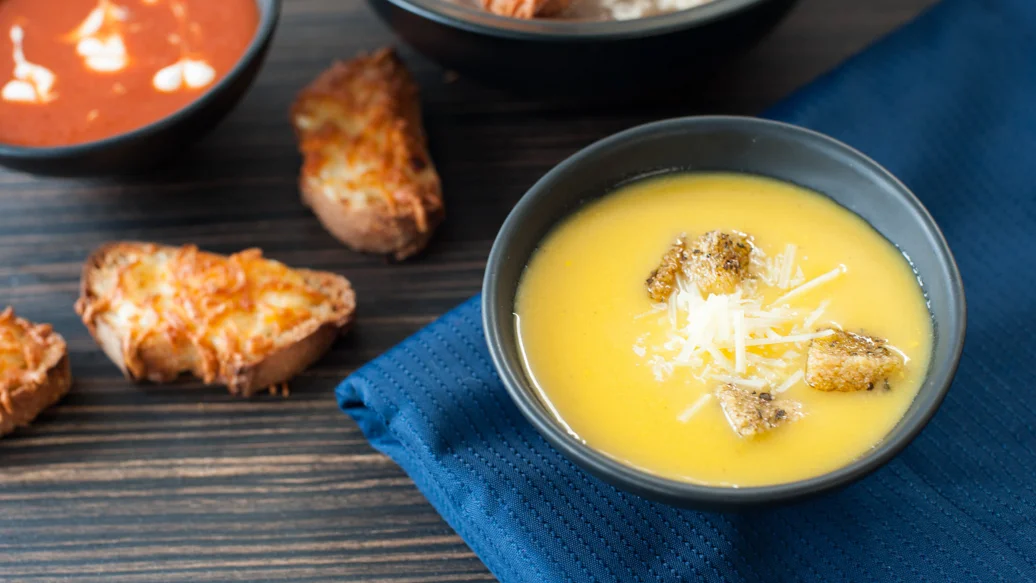 30 min
6 servings
$1.00/serving
Pumpkins and squash bring a colourful glow to a grey fall day. Pick up tiny pie pumpkins at your local farmer's market, or use canned puréed pumpkin for this smooth, creamy, delicate soup. The cheese and croutons give it delicious extra texture and flavour.
Ingredients
4 cups cooked pumpkin or squash, puréed
3 cups non-fat milk
Sea Salt, to taste
Black Pepper, to taste
1 tsp nutmeg, optional
1⁄2 cup grated Swiss or Parmesan cheese
Preparation
Place pumpkin in Multipurpose Pot.
With Piano Wire Whisk, whisk in milk, broth, salt, pepper, and nutmeg.
Gently simmer over medium heat for 15 minutes.
Pour into warm bowls, and sprinkle with croutons and cheese.
Nutritional Information
Per serving: Calories 180, Fat 7 g (Saturated 3.5 g, Trans 0.1 g), Cholesterol 15 mg, Sodium 150 mg, Carbohydrate 23 g (Fibre 7 g, Sugars 12 g), Protein 11 g.
Tips
Finish with 1⁄4 cup light cream for an extra rich hit.
Gluten-free: Simply use gluten-free croutons.