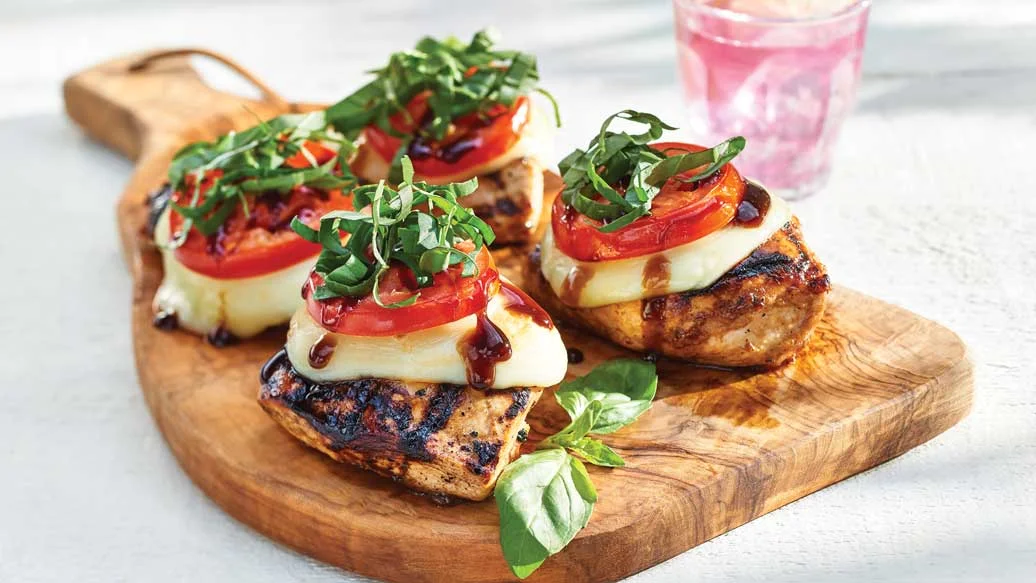 16 min
4 servings
$2.90/serving
You will be making this meal on repeat all summer long. Like classic caprese, it's got wickedly simple ingredients, so make sure to use the best you can find. 
Perfectly Balance Your Plate
Serve with 1 cup grilled potatoes and 2 cups salad  with 1 tbsp of your favourite Epicure salad dressing.  
Ingredients
2 tbsp balsamic vinegar
2 tbsp liquid honey
2 tbsp vegetable oil
1 lb (450 g) boneless, skinless chicken breasts (about 2)
2 slices mozzarella cheese
1 small tomato
4 fresh basil leaves
Toppings (optional): Balsamic reduction
Preparation
Preheat grill to medium-high. 
Meanwhile, make glaze. In a small bowl, stir together seasoning, vinegar, honey, and oil. 
Slice chicken breasts in half. Place in bowl with glaze.  Stir evenly to coat. If you have extra time, let stand 10 min or cover and refrigerate overnight. 
Place chicken on grill. Barbecue with lid closed until cooked, about 6–8 min per side. 
Meanwhile, cut each cheese slice in half. Cut tomato into four slices and chop basil leaves. 
Top chicken with cheese to melt during the last minute  of cooking. 
To serve, top each chicken breast with a tomato slice  and basil. 
Nutritional Information
Per serving: Calories 280, Fat 12 g (Saturated 2 g, Trans 0 g), Cholesterol 90 mg, Sodium 170 mg, Carbohydrate 15 g (Fibre 1 g, Sugars 12 g), Protein 29 g.