Greatest Picnic Quinoa Salad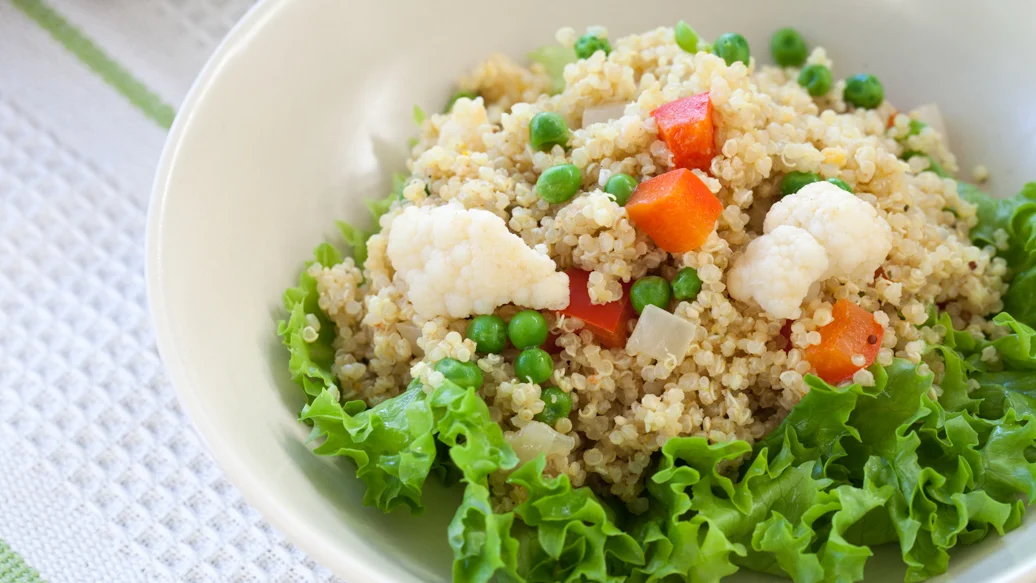 30 min
6 - 8 servings
$2.50/serving
Dish up in a mason jar – perfect for transporting to a picnic.
Ingredients
1 cup quinoa
1⁄4 cup peas
1⁄2 small onion, diced
1⁄4 red bell pepper, diced
1⁄4 cauliflower, processed into small pieces
oil, for sautéing
1 cup mayonnaise
1 cup sour cream
2 tsp Mango Curry Dip Mix
juice of 1/2 a lemon
1⁄4 cup mango purée
Preparation
Place quinoa in Multipurpose Pot and add Vegetable Bouillon. Bring to a boil, turn down heat, and simmer for 15 minutes, or until the quinoa reaches the desired texture. Remove from heat and cool.
Place peas, onion, pepper, and cauliflower in a frying pan with a small amount of oil. Sauté until the onions are translucent and the cauliflower is soft. Set aside and let cool.
Mix mayo, sour cream, Mango Curry Dip Mix and lemon juice.
In a large bowl, mix quinoa, mango curry dressing, mango purée, and cooked vegetables. Season if needed.
Nutritional Information
Per serving: Calories 280, Fat 11 g (Saturated 2.5 g, Trans 0 g), Cholesterol 15 mg, Sodium 240 mg, Carbohydrate 38 g (Fibre 6 g, Sugars 10 g), Protein 8 g.