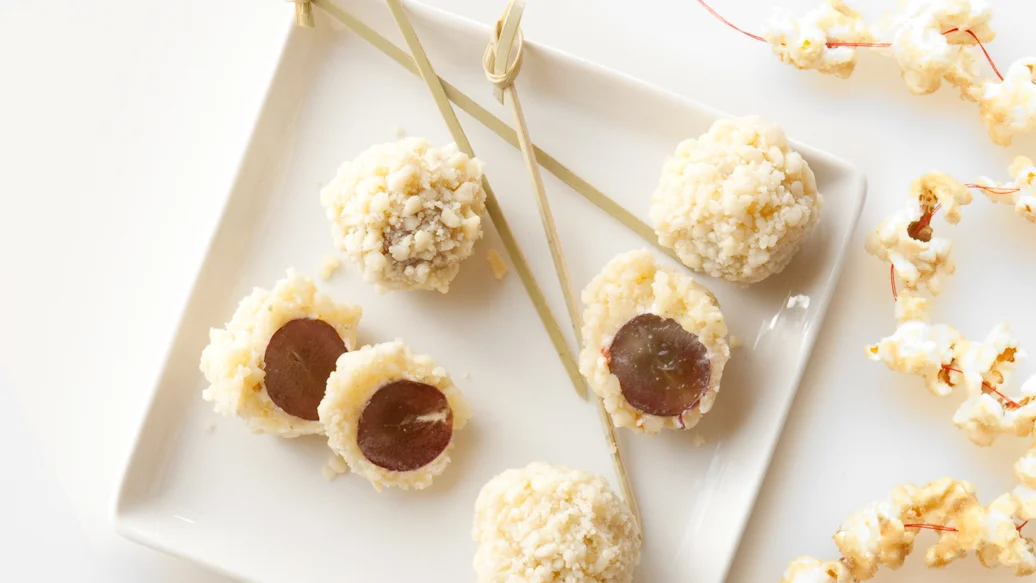 30 min
10 - 15 servings (30 pieces)
$0.23/serving
A savoury twist on truffles. Can be made the day before.
Ingredients
1⁄2 cup coarsely chopped toasted almonds
1⁄4 cup cream cheese, at room temperature
3 tbsp milk
30 seedless grapes
Preparation
Place almonds in a food processor. Pulse until finely chopped. Remove from processor.
Place cream cheese, milk and 3 Onion Dip Mix into food processor. Whirl until smooth. It should have a creamy but not runny consistency. Scrape into a bowl.
Working with one grape at a time, dip into cheese mixture, then roll in nuts. (Tip: pierce grape with a toothpick, then swirl in cheese mixture.) Once all grapes are coated, place on a plate and refrigerate for at least 10 minutes, until chilled.
Nutritional Information
Per serving (2 pieces): Calories 15, Fat 1.5 g (Saturated 0 g, Trans 0 g), Cholesterol 0 mg, Sodium 0 mg, Carbohydrate 2 g (Fibre 0 g, Sugars 1 g), Protein 1 g.