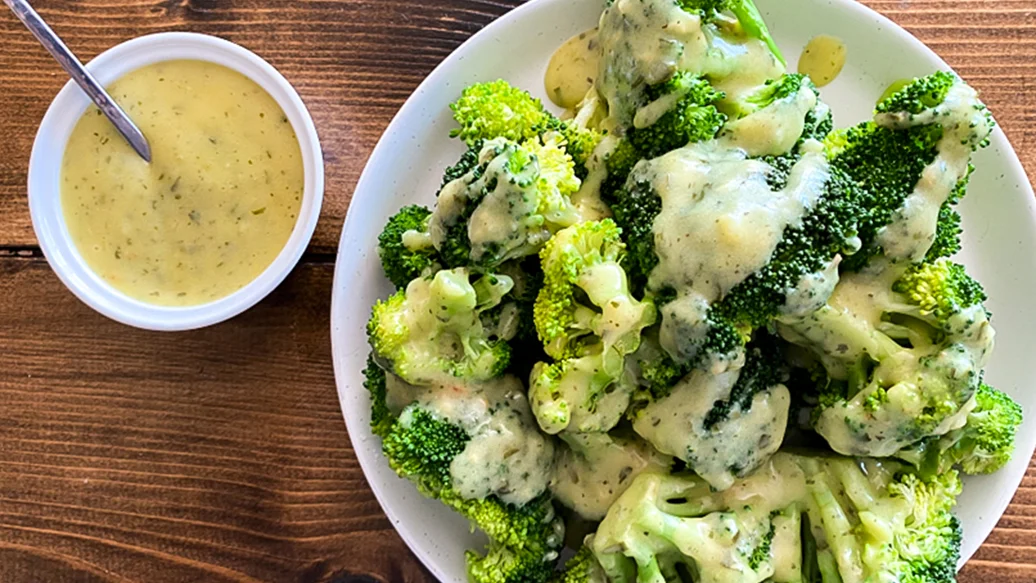 8 min
4 servings
$0.86/serving
No more sad, soggy broccoli here! Microwave cooking is the secret to tender-but-not-mushy veggies every time. And it's just so darn easy! No ovens, boiling water, or pots and pans required. Why stop there? Take broccoli from everyday to elevated with Béarnaise sauce! 
Perfectly Balance Your Plate
Serve with 4 oz (113 g) lean protein and 1 cup cooked grains.
Ingredients
1⁄2 cup unsalted butter
1 cup water
4 cups broccoli florets
Preparation
In a medium saucepan set over medium-high heat, melt butter.  
Remove from heat; whisk in sauce mix. While whisking, slowly add water. Bring to a boil over medium heat, stirring constantly. Reduce heat and simmer 3 min, stirring halfway until thick.  
Meanwhile, in Multipurpose or Round Steamer, add broccoli. Cover; microwave on high, 3–4 min or until tender.  
Serve with 1⁄2 cup prepared sauce. Refrigerate leftover sauce for up to 5 days.  
Nutritional Information
Per serving: Calories 100, Fat 8 g (Saturated 5 g, Trans 0.4 g), Cholesterol 20 mg, Sodium 95 mg, Carbohydrate 7 g (Fibre 2 g, Sugars 2 g), Protein 3 g.
Tips
If your broccoli is ready before your sauce, keep the steamer only partially covered with the lid so some steam can get out to prevent overcooking.