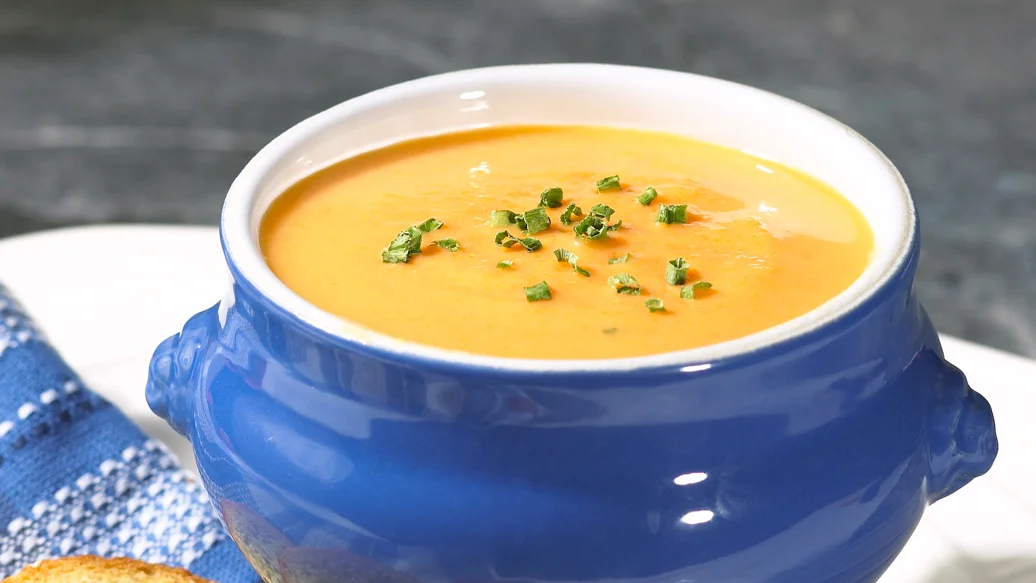 40 - 45 min
4 servings
$1.07/serving
Ingredients
1 large onion, coarsely chopped
1 tbsp olive oil
1 lb (450 g) carrots, peeled and cut in chunks
2 tbsp crystallized ginger
1 tsp Pumpkin Pie Spice
1 1⁄2 cups orange juice
1⁄2 cup half-and-half cream
1 tsp chives
Preparation
In a Multipurpose Pot, cook onions in oil until soft.
Add carrots, broth, crystallized ginger and Pumpkin Pie Spice.
Simmer for 25—30 minutes, or until carrots are tender. Blend until smooth in blender or food processor.
Return mixture to saucepan. Add juice and cream and heat to steaming. Season to taste with Salt and Pepper.
Serve immediately. Garnish each serving with chives.
Nutritional Information
Per serving: Calories 220, Fat 8 g (Saturated 3 g, Trans 0.1 g), Cholesterol 10 mg, Sodium 200 mg, Carbohydrate 32 g (Fibre 4 g, Sugars 22 g), Protein 6 g.