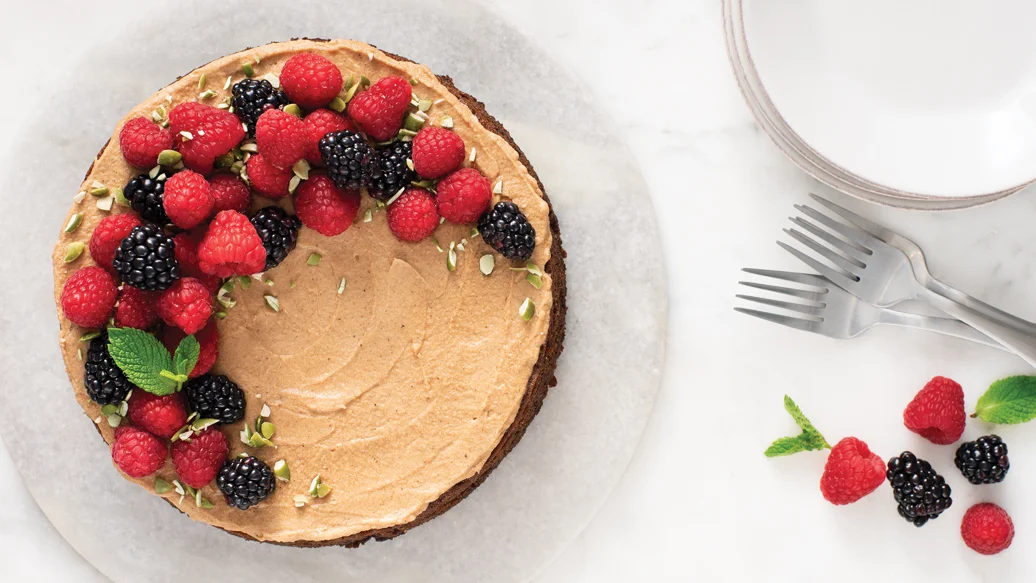 50 min
12 pieces
$1.10/serving
Ingredients
Caramel Icing
1⁄4 cup unsalted butter
1⁄2 cup light brown sugar
2 tbsp milk, your choice
1 1⁄4 cups powdered sugar
Cake
2 eggs
1⁄2 cup vegetable oil
1⁄4 cup fancy molasses
Topping suggestions (optional): fresh berries, fresh mint leaves, chopped pistachios or almonds
Preparation
In a small saucepan, melt butter with brown sugar, milk and spices over low heat. Increase to medium heat and bring mixture to a boil, stirring often. Once boiling, remove from heat and transfer to another bowl. Let cool to room temperature. Add mixture to powdered sugar; stir to combine. If the icing is too thick, add a splash of milk. 
Meanwhile, generously oil Epicure's 8" silicone Round Cake Pan.
In a large bowl, whisk eggs with oil and molasses. Stir in mix; scrape into pan and smooth.
Microwave on high for 4 min. Rest in pan for 6 min; invert onto wire rack to cool. Or bake in preheated 350° F oven for 28–30 min or until a toothpick inserted in centre of loaf comes out clean. Cool 10 min before unmolding.
Remove chilled sauce from fridge. Using a hand mixer, beat until light and fluffy.
To assemble, place cake on a large cake stand or plate. Spread top with icing, smoothing to edge. Garnish with toppings, as desired.
Nutritional Information
Per serving: Calories 310, Fat 21 g (Saturated 8 g, Trans 0 g), Cholesterol 65 mg, Sodium 190 mg, Carbohydrate 28 g (Fibre 1 g, Sugars 21 g), Protein 3 g.
Tips
Make-Ahead Tip: Bake cake, wrap, and refrigerate overnight or freeze up to five days. Refrigerate caramel icing up to three days; bring to room temperature before using.