Get Your Greens Hearty Penne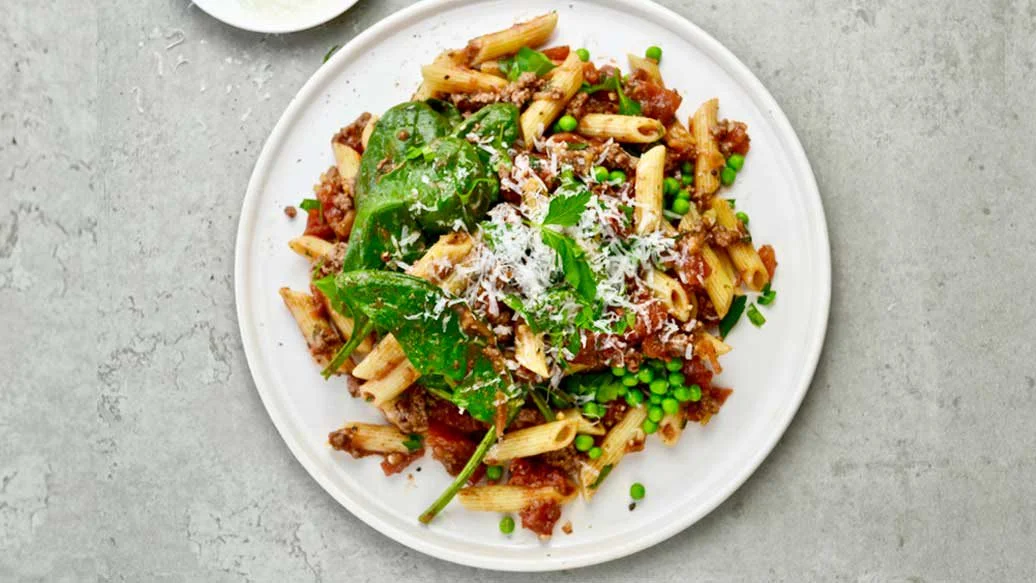 20 min
4 servings
$3.05/serving
Saucy, beefy, and full of good, green stuff—this pasta with Philly-Style Cheesesteak Seasoning is sure to "Philly" you up! Green vegetables like spinach and peas are important sources of vitamins, minerals, and fibre, and can promote immunity, heart health, and strong bones. So, eat up!
Perfectly Balance Your Plate
This is a perfectly balanced plate. 
Ingredients
2 cups uncooked penne pasta
4 cups hot water
1 tsp oil
1⁄2 lb (225 g) lean ground beef or ground turkey
1 pkg Philly-Style Cheesesteak Seasoning or Shepherds Pie Seasoning, or Shepherds Pie Seasoning
1 can (14.5 oz/398 ml) no salt diced tomatoes
6 cups baby spinach
2 cups frozen peas
Sea Salt , to taste
Black Pepper , to taste
Toppings (optional): chopped parsley, grated Parmesan
Preparation
Place pasta in Multipurpose Steamer. Stir in 4 cups water. Cover; microwave on high until al dente, 12 min. 
Meanwhile, heat oil in a large fry pan or wok over medium-high heat. Crumble in beef; cook, breaking up meat using the Ground Meat Separator, until meat is cooked through, 3–5 min.
Stir in seasoning and tomatoes; bring to a boil. Reduce heat and simmer, 5 min.
Once cooked, drain pasta, then add to pan. Stir in peas and spinach until warm, 1 min. Taste and season with salt and pepper, if desired.
To serve, spoon into bowls. Add toppings, if desired. 
Nutritional Information
Per serving: Calories 470, Fat 11 g (Saturated 3.5 g, Trans 0.4 g), Cholesterol 50 mg, Sodium 240 mg, Carbohydrate 61 g (Fibre 9 g, Sugars 9 g), Protein 30 g.
Tips
Make it vegetarian by using soy ground round instead of ground beef.
Swap baby spinach for 2 cups favourite frozen veggies.