French Vanilla Crème Brûlée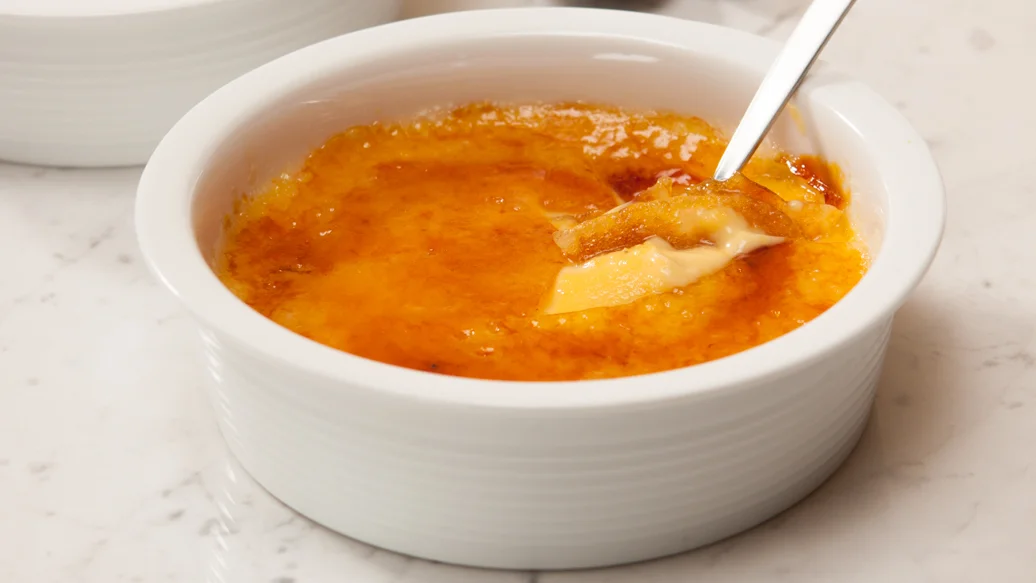 50 min
4 servings
$2.18/serving
Ingredients
2 cups whipping cream
1 vanilla bean
6 large egg yolks
1⁄4 cup sugar
2 tsp vanilla extract
1⁄4 cup sugar
Preparation
Position rack in the centre of oven and preheat to 300° F (150° C).
Fill a kettle with water and bring to a boil.
Place 4 crème brûlée dishes on Epicure's Sheet Pan lined with parchment paper, and set aside.
Heat cream in Multipurpose Pot - 8 cup over medium-high heat until it begins to steam. Do not overheat. Remove pot from heat.
Split vanilla bean in half lengthwise. With a knife tip, scrape seeds from one half. Tightly wrap other half and scraped-out pod in plastic to store for another use.
In a separate bowl, whisk egg yolks with sugar, vanilla bean seeds and vanilla extract. Slowly add warm cream to mixture, stirring very gently to prevent bubbles from forming.
Divide custard mixture between crème brûlée dishes. Place sheet pan in oven; carefully pour enough boiling water onto sheet to cover surface.
Bake for 30 minutes or until edges are set, but centers are slightly wobbly. Remove sheet from oven and place on top of stove. Carefully remove each dish and set on a cooling rack for 20 minutes.
Cover and refrigerate for a minimum of 3 hours, or overnight.
To serve, place oven rack into highest position. Preheat broiler to high. Place 1 tbsp of sugar on each crème brûlée, then gently tip dishes to coat surface. Place on Sheet Pan and broil until sugar turns golden. Let stand 5 minutes before serving.
Nutritional Information
Per serving: Calories 560, Fat 51 g (Saturated 30 g, Trans 0 g), Cholesterol 475 mg, Sodium 60 mg, Carbohydrate 23 g (Fibre 0 g, Sugars 22 g), Protein 7 g.
Tips
Chef Tips:
Freeze crème brûlées for 1 hour before topping with sugar.
Use a torch to caramelize sugar for a restaurant-quality topping.
Keep a close eye on your oven while broiling sugar on crème brûlées.