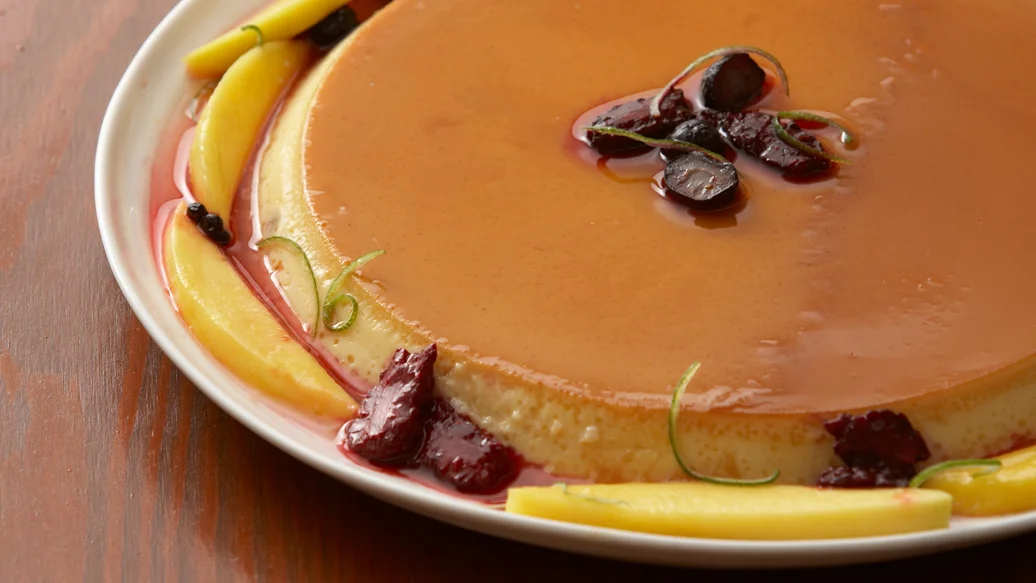 1 hr & 15 min
8 servings
$0.73/serving
This Mexican version of crème caramel is slowly baked in a pie plate. Best made the day before serving.
Ingredients
1 cup sugar, divided
1⁄4 cup water
4 eggs
4 egg yolks
2 1⁄2 cups milk, homogenized or 2%
2 tsp vanilla extract
Preparation
Preheat oven to 325° F (160° C).
Stir 1⁄2 cup sugar with water in Multipurpose Pot over medium heat until dissolved. Boil, occasionally swirling pot (not stirring), for 5 minutes, until mixture turns syrupy and a deep-amber colour.
Pour into a 9" glass pie plate. Tilt to coat bottom evenly. Set plate inside a large oven-proof pan and set aside.
Whisk eggs with yolks and remaining 1⁄2 cup sugar in a bowl. Whisk in milk and vanilla extract. Pour over caramel.
Add enough hot water to pan to come halfway up the side of pie plate. Bake for 40–50 minutes, until a knife tip inserted in centre comes out clean.
Remove from oven and cool completely in water bath. Remove plate, cover and refrigerate to chill completely.
To serve, run knife around inside edge to loosen. Place a serving plate overtop, then quickly invert and lift off pan.
Nutritional Information
Per serving: Calories 170, Fat 7 g (Saturated 2.5 g, Trans 0 g), Cholesterol 235 mg, Sodium 85 mg, Carbohydrate 22 g (Fibre 0 g, Sugars 18 g), Protein 8 g.
Tips
Health Tip: Using low-fat dairy products is a great way to reduce artery-clogging saturated fat.