Everything Braising Sauce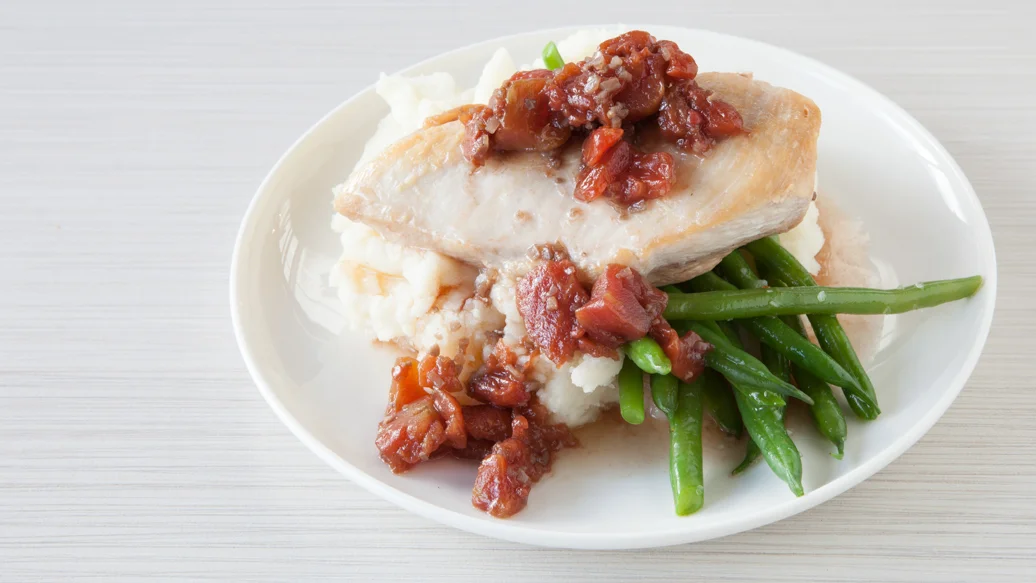 1 hr 15 min - 1 hr 45 min
6 servings
$1.40/serving
This a great "go to" sauce, it is delicious and comforting.
Ingredients
3 tbsp Assam black tea
6 cups water
1 tbsp olive oil
1⁄4 cup packed brown sugar
1 1⁄2 cups canned diced tomatoes
1⁄2 cup red or white wine, optional
2 - 2 1⁄2 lbs (1 kg) chicken, pork, or beef
Sea Salt, to taste
Black Pepper, to taste
Preparation
Preheat oven to 325° F (160° C).
Boil water. Add tea and steep for 5 minutes. Strain and set tea aside.
In a large sauce pan over medium heat, combine olive oil, Minced Garlic, and Toasted Onion.
Add the tea, sugar, tomatoes, and wine, if using. Simmer and stir until sugar dissolves.
Add meat and season with Sea Salt and Black Pepper. Coat with braising sauce, then bake, covered, until tender and cooked, 1–1 1⁄2 hours. Serve with mashed potatoes or your favourite grain.
Nutritional Information
Per serving: Calories 300, Fat 17 g (Saturated 4.5 g, Trans 0 g), Cholesterol 75 mg, Sodium 90 mg, Carbohydrate 15 g (Fibre 1 g, Sugars 12 g), Protein 19 g.
Tips
Halfway through cooking, add a variety of root vegetables, like carrots, parsnips, and rutabaga. They will add to the flavour of the sauce, and the side dish step for a complete meal is done!