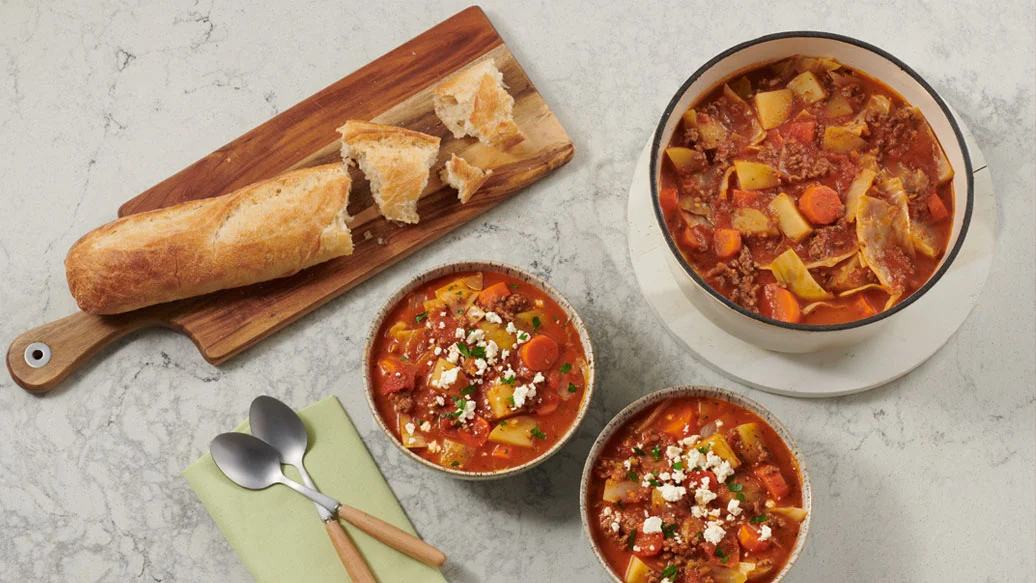 40 min
6 servings (16 cups)
$3.93/serving
Packed with nutritious veggies like cabbage, carrots, and tomatoes, this hearty soup is a great way to get your daily dose. Low in calories and high in fibre, this soup will keep you full for hours! Freeze leftovers for nights when you're too busy to cook but crave one-bowl, comfort foods. 
Perfectly Balance Your Plate
This is a perfectly balanced plate.
Ingredients
1 tbsp oil
1 lb (450 g) extra lean ground beef, bison, or chicken
1⁄2 large green cabbage
2 large Yukon Gold potatoes
3 large carrots
1 can (28 oz/796 ml) diced tomatoes
1⁄4 cup olive oil
3 tbsp lemon juice or apple cider vinegar
Salt and pepper, to taste (optional)
3⁄4 cup crumbled feta cheese
Toppings (optional): chopped fresh parsley or cilantro
Preparation
Heat oil in a Dutch oven over medium-high heat. Crumble in meat and sprinkle with dip mix. Stir-fry until browned, 3–4 min. Meanwhile, thickly chop cabbage (you should about 5–6 cups). Cube potatoes and carrots. Add veggies to pan with tomatoes, seasoning, and olive oil; stir to combine.
Pour in broth. Cover and bring to a boil over high heat. Reduce heat to medium, partially cover, and let simmer, stirring occasionally, until veggies are very tender, about 20 min.
Squeeze in lemon juice. Taste and season with salt and pepper, if desired. Spoon into bowls. Top each bowl with 2 tbsp feta cheese and additional toppings, if desired. 
Nutritional Information
Per serving: Calories 450, Fat 21 g (Saturated 7 g, Trans 0.2 g), Cholesterol 60 mg, Sodium 560 mg, Carbohydrate 41 g (Fibre 10 g, Sugars 13 g), Protein 25 g.
Tips
Instead of fresh cabbage, use 16-oz (454 g) bag of coleslaw mix. Because shreds are thin, add for the last 5 min of cooking.
Soup will keep well refrigerated for up to 5 days, or portion and freeze for up to 2 months.