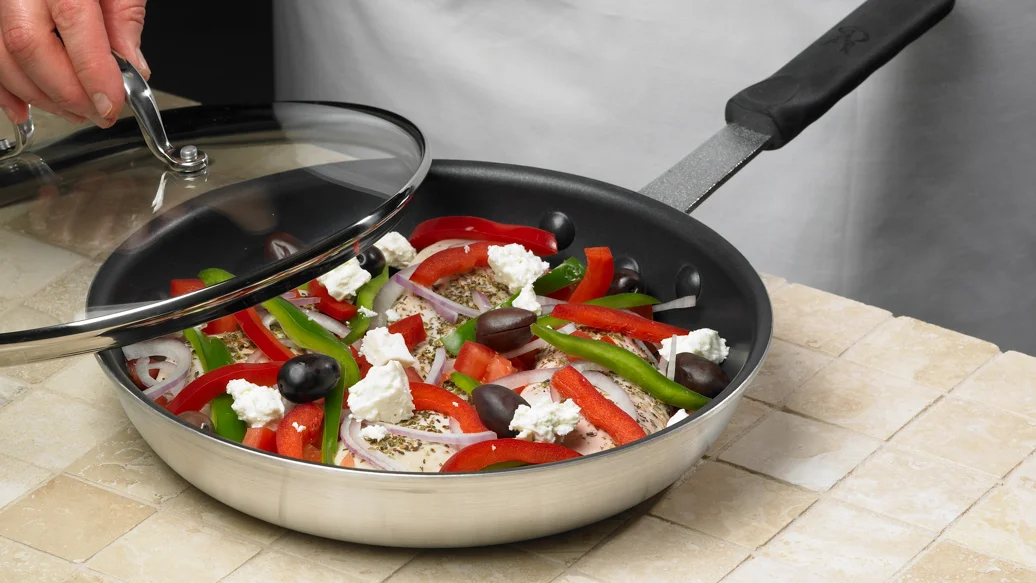 40 - 45 min
4 servings
$4.24/serving
It's a winner! One of our Consultants loved this recipe so much she entered it into a recipe contest in the Calgary Herald and won!
Ingredients
4 boneless, skinless chicken breasts
2 garlic cloves, crushed
2 Roma tomatoes, diced – optional
1 small red onion, sliced
1 green pepper, sliced
1 red pepper, sliced
1⁄2 cup olives
1 cup feta cheese
Preparation
Preheat oven to 350° F (175° C).
Place chicken in a single layer in a frying pan. Layer ingredients over the chicken in the order listed above, ending with feta cheese.
Bake covered 20 minutes. Uncover, continue cooking for 15 minutes.
Nutritional Information
Per serving: Calories 330, Fat 17 g (Saturated 7 g, Trans 0 g), Cholesterol 110 mg, Sodium 800 mg, Carbohydrate 12 g (Fibre 3 g, Sugars 6 g), Protein 34 g.