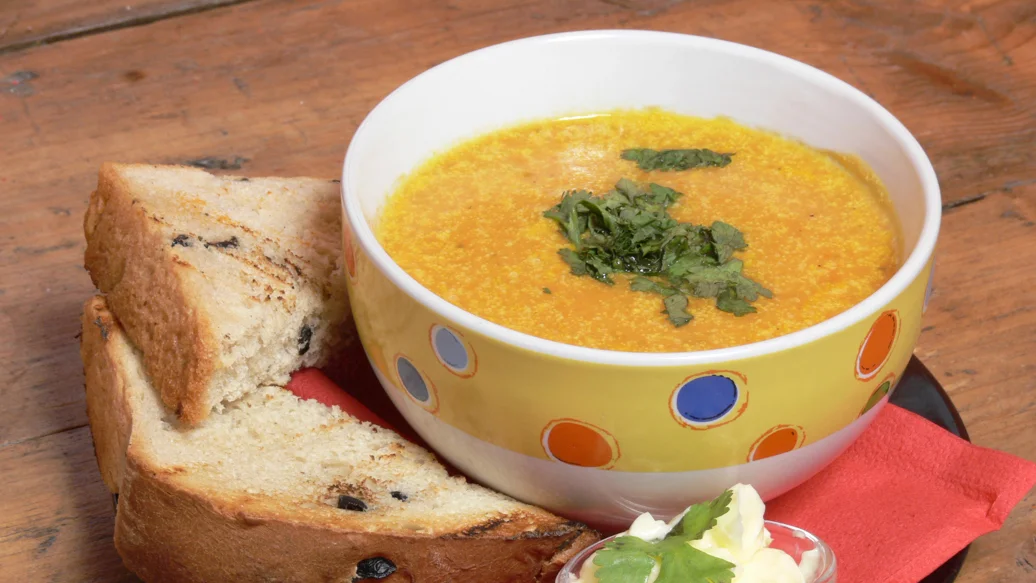 40 min
4 servings
$0.85/serving
Ingredients
1 tbsp vegetable oil
1 medium onion, chopped
2 tbsp Mango Curry Dip Mix
1 tsp fresh ginger
3 cups grated carrots
1 1⁄2 cups orange juice
Sea Salt, to taste
Black Pepper, to taste
Preparation
Heat Multipurpose Pot to medium; add vegetable oil and sauté onion for about 4 minutes, being careful not to brown. Add Curry Dip Mix and ginger and sauté for 1 minute.
Stir grated carrots into pot. Add Bouillon and orange juice and bring to a simmer. Cook until carrots are tender and all flavours are combined, about 30 minutes.
In small batches, carefully blend soup until smooth. Return to heat and adjust consistency with Bouillon, if required. Season with Salt and Pepper.
Nutritional Information
Per serving: Calories 180, Fat 5 g (Saturated 0.5 g, Trans 0 g), Cholesterol 0 mg, Sodium 170 mg, Carbohydrate 27 g (Fibre 4 g, Sugars 16 g), Protein 8 g.
Tips
Serve with a garnish of plain yogurt or crème fraiche.