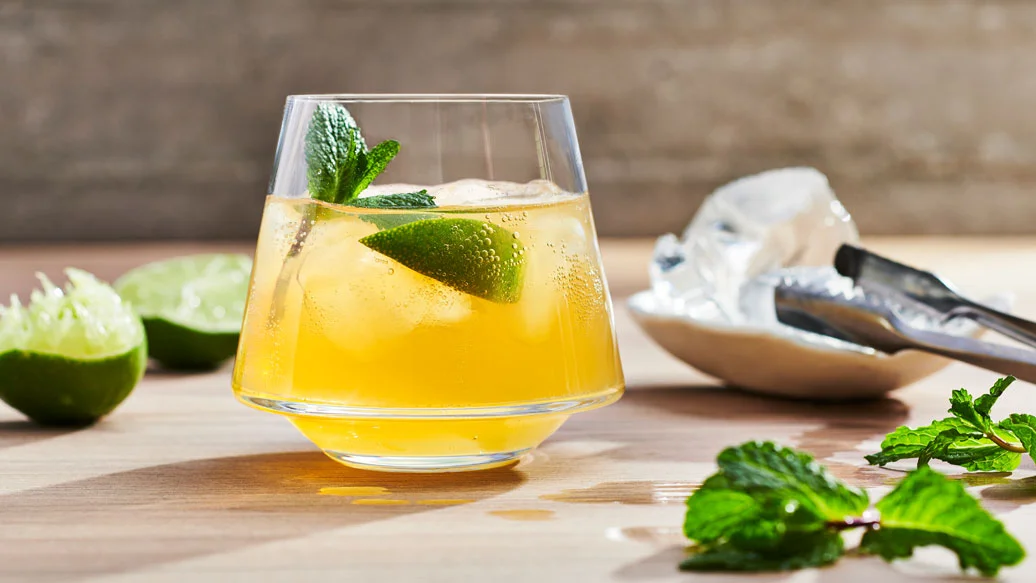 2 min
1 serving
$1.10/serving
Cuba Libre is a "fancy" rum 'n coke with a lively dose of zingy, fresh lime. Skip the sugary cola and eliminate over 10 tsp sugar by using iced tea as the base—it offers the nostalgia of cola while being better for your health.
Ingredients
1⁄2 cup brewed Pop Shop Herbal Tea, chilled
1 cup club soda, chilled
1⁄2 lime
1⁄4 cup (2 oz) rum, optional
Topping (optional): lime wedges
Preparation
Pour chilled tea into a glass and top with club soda. Squeeze in lime juice.
Stir in rum, if using.  
Garnish rim of glass with lime wedge, if desired. 
Nutritional Information
Per serving: Calories 3, Fat 0 g (Saturated 0 g, Trans 0 g), Cholesterol 0 mg, Sodium 25 mg, Carbohydrate 1 g (Fibre 0 g, Sugars 0 g), Protein 0 g.
Tips
Ever heard of cold brewed tea? It's much smoother because the cooler temperature slowly extracts flavour over several hours, which helps prevent a bitter or astringent taste. Place 1–2 tea bags per cup of cold water in a sealed container. Refrigerate for at least 6 hours or overnight. Use within 4 days of brewing.