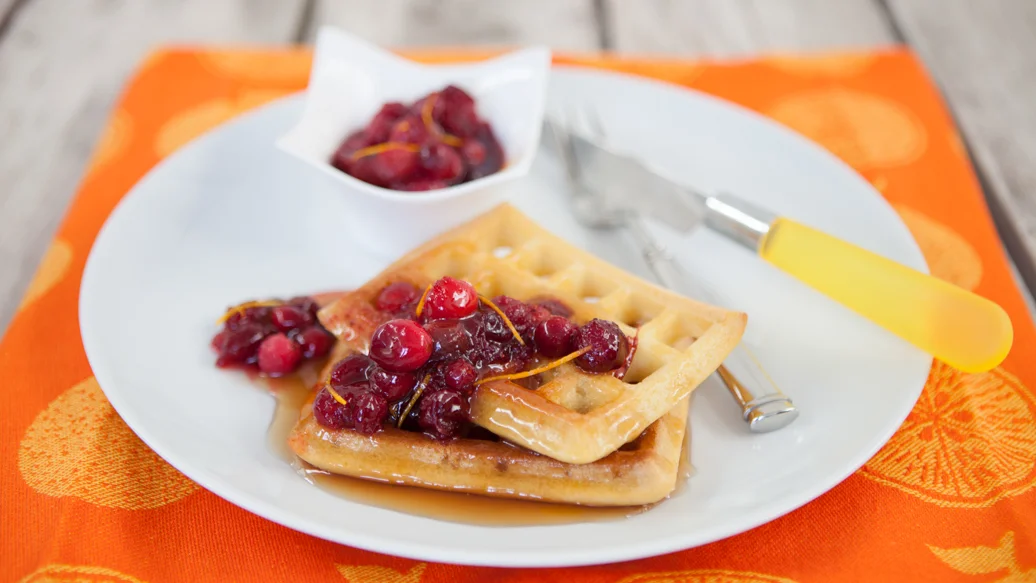 35 min
12 waffles
$0.60/serving
Ingredients
2 tbsp cranberry sauce
1 1⁄2 cups fresh or frozen cranberries
1⁄2 cup brown sugar
zest and juice of 1 orange
1 - 2 tbsp vegetable oil
icing sugar or maple syrup, to taste
Preparation
Preheat oven to 425° F (220° C).
In a saucepan, heat first 4 ingredients over medium heat. Once it comes to a boil, reduce heat, and simmer, gently squishing cranberries, until it reaches a jam-like consistency, approximately 10 minutes.
Place Waffle Mold on Sheet Pan. Using a basting brush, lightly brush Waffle Mold with oil.
Pour approximately 1⁄4 cup of batter into each Waffle Mold until it fills all corners.
Bake until golden, approximately 13–15 minutes. Let cool for 2 minutes, or until Waffle Mold is cool to the touch. Gently remove waffles from Waffle Mold.
Serve open faced, topped with cranberry orange sauce. Finish with Summer Berry Sweet Dip Mix, icing sugar, or maple syrup, if you like.
Nutritional Information
Per serving (1 waffle): Calories 220, Fat 7 g (Saturated 1 g, Trans 0 g), Cholesterol 40 mg, Sodium 230 mg, Carbohydrate 35 g (Fibre 1 g, Sugars 17 g), Protein 5 g.
Tips
Serve with whipped heavy cream or crème fraiche. Creamy, tart, and sweet, all in one.