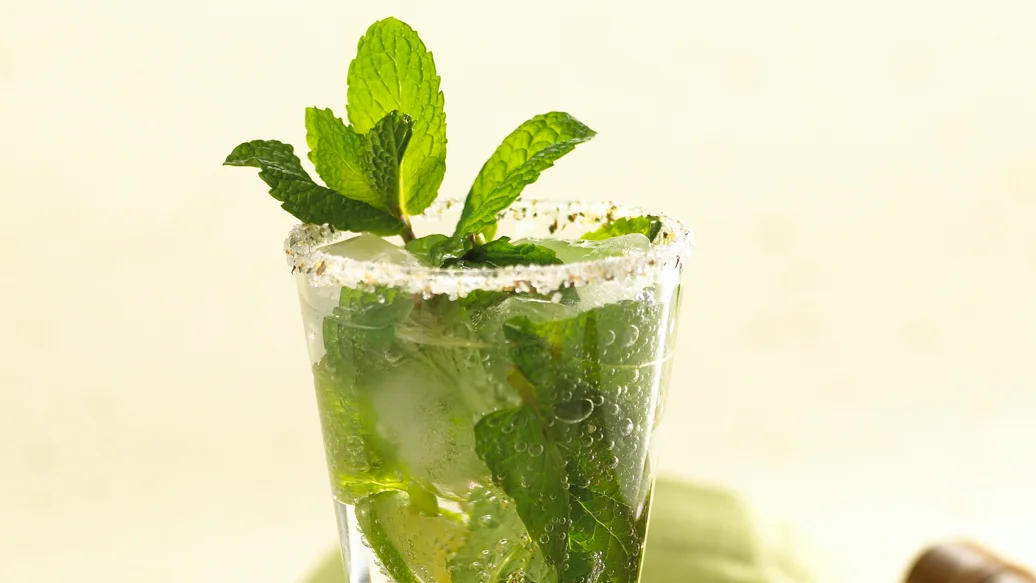 5 min
1 serving
$1.65/serving
This refreshing beverage contains only 150 calories.
Ingredients
2 lime wedges
Mojito Rim Trimmer™, to taste
8 - 10 fresh mint leaves
2 tsp sugar
2 tbsp lime juice
ice, to fill glass
1 1⁄2 oz white rum
club soda, to fill glass
1 sprig fresh mint, for garnish
Preparation
Moisten rim of a tall glass with one lime wedge and dip into Mojito Rim Trimmer™. Gently rotate to evenly 'frost' rim.
Place mint in glass. Cover with sugar and lime juice. With the back of a spoon, lightly crush mint.
Fill glass half-full with ice. Add rum, fill with club soda and stir well.
Garnish with remaining lime wedge and sprig of fresh mint. Serve.
Nutritional Information
Per serving: Calories 150, Fat 0 g (Saturated 0 g, Trans 0 g), Cholesterol 0 mg, Sodium 25 mg, Carbohydrate 13 g (Fibre 0 g, Sugars 10 g), Protein 0.2 g.
Tips
To make alcohol-free Mojitos, replace white rum with additional lime juice.
Infuse with fresh berries or cucumber for a delightful twist.
Lighten up calories by reducing sugar and adding fruit.