Chocolaty Butterfinger Bites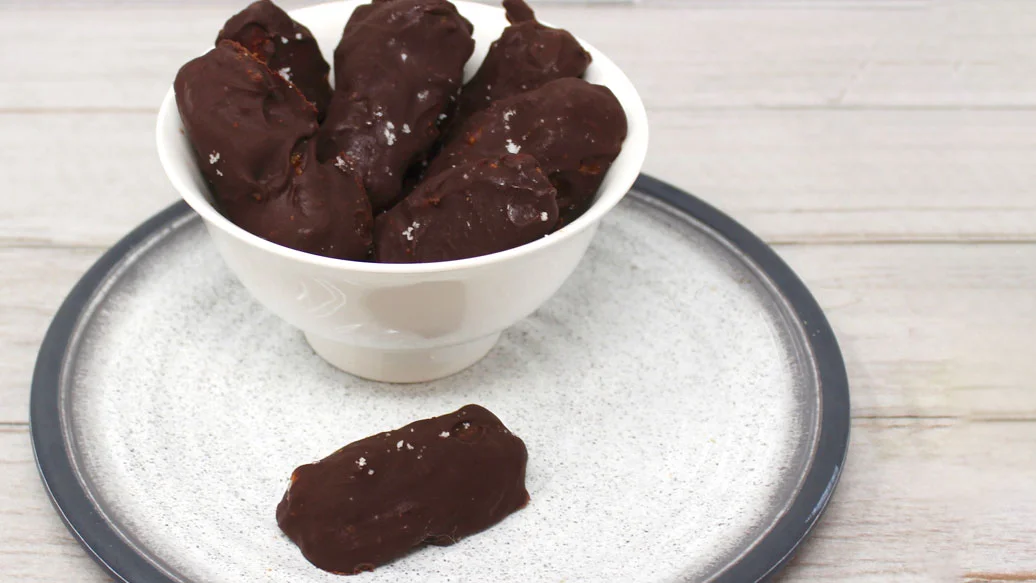 15 min + 1 hour chill time
24 servings
$0.71/serving
Ingredients
Bites
3⁄4 cup all-natural peanut butter
2 tsp molasses
1⁄4 tsp vanilla extract
1⁄4 cup maple syrup
1⁄4 cup Vanilla or Chocolate Power Up Protein Blend
1 1⁄2 cups bran flakes, crushed
Chocolate Coating
3⁄4 cup chocolate chips
1 tbsp all-natural peanut butter
Sea Salt, optional
Preparation
In a large bowl, combine all bar ingredients and shape into little mini bites.
Freeze on a 1⁄4 Sheet Pan lined with 1⁄4 Sheet Pan Liner for 30 min, or until firm.
In a microwave safe bowl, combine chocolate and peanut butter. Cook on low heat at 30-second intervals in the microwave until melted. Dip the chilled bars into the chocolate to coat or drizzle. Top with sea salt, if desired. Refrigerate until firm, 30 min. Keep refrigerated until ready to serve.
Nutritional Information
Per serving (1 bite): Calories 110, Fat 6 g (Saturated 1.5 g, Trans 0 g), Cholesterol 0 mg, Sodium 50 mg, Carbohydrate 11 g (Fibre 2 g, Sugars 6 g), Protein 4 g.
Tips
Can store in the freezer until desired.