Chocolate Velvet Cheesecake Petites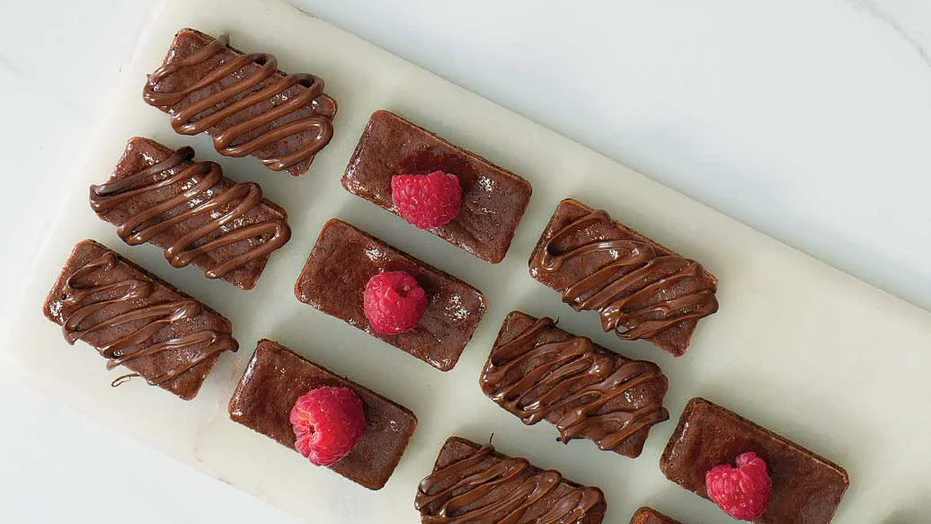 30 min
60 petites
$0.35/serving
Ingredients
1 1⁄3 cups chocolate wafer crumbs or gluten free cookie crumbs
3 tbsp butter, melted
2 bricks (8 oz/250 g each) cream cheese, softened
1 pkg Chocolate Velvet Cheesecake Mix
4 eggs
1 cup vanilla yogurt
Preparation
Arrange one oven rack in centre of oven; another on the lowest level. Place Perfect Petites on Sheet Pan. Fill a small oven-proof dish with hot water and place on lowest rack.  Preheat oven to 325° F.
In bowl, combine crumbs with melted butter; press 1 tsp into each section of Perfect Petites. Set remaining mixture aside.
In large bowl, using an electric mixer, beat cream cheese with cheesecake mix until smooth. Beat in eggs, one at a time. Add yogurt and beat until smooth.
Spoon half the filling over crusts. Bake 18–20 min.
Let cool in pan, then pop out of mold.
Repeat steps with remaining crust and filling for a second batch.
If making ahead, freeze in a single layer on sheet pan; wrap individually and freeze up to 1 month.
Nutritional Information
Per serving (1 petite): Calories 80, Fat 4.5 g (Saturated 2.5 g, Trans 0 g), Cholesterol 10 mg, Sodium 70 mg, Carbohydrate 9 g (Fibre 0 g, Sugars 6 g), Protein 1 g.
Tips
Place a pan of water in the bottom of the oven to promote even baking and to reduce cracking.