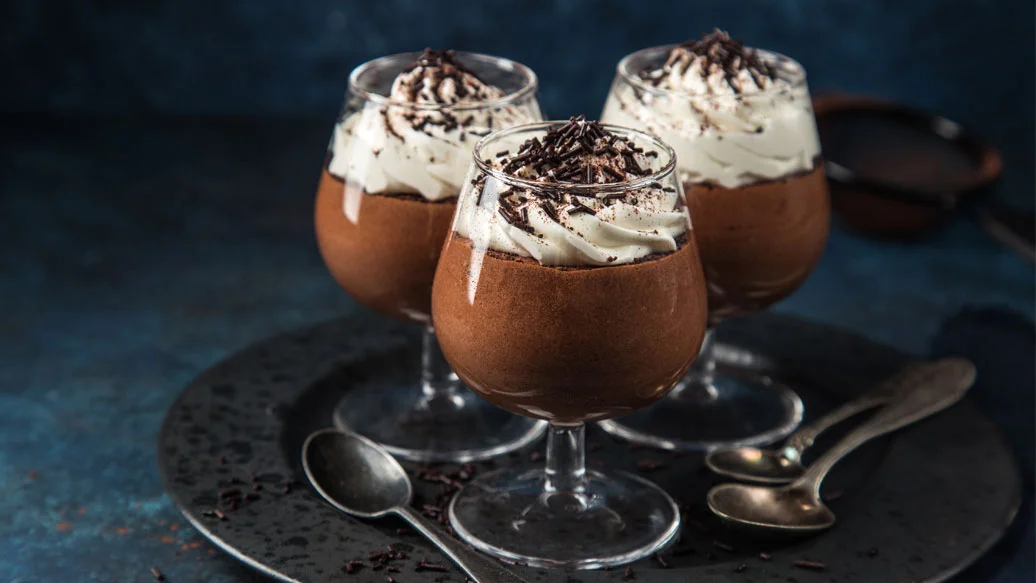 15 - 25 min
approximately 2 1/4 cups
$0.45/serving
This recipe was created by Chef Megan Hennis for our Wine & Dine event as part of Epicure's 15th anniversary. This has not been tested by Epicure Chefs. Divine layered with Kyoto Cherry Rose Tea & Almond Milk Panna Cotta and topped with Cherry Compote.
Ingredients
1 cup heavy cream
1 cup milk
3 tbsp brown sugar
3 egg yolks
2 tbsp white sugar
1 cup dark Belgian chocolate
Sea Salt, pinch
Preparation
Bring the cream, milk, and brown sugar to a boil in a frying pan. Meanwhile in a bowl, whisk the egg yolks smooth, and very quickly whisk in the white sugar. Make sure no egg yolk and sugar lumps are visible.
Pour a quarter of the boiling milk into the egg yolk mixture and whisk quickly. Pour the tempered egg mixture and pinch of salt into the heated milk and on low heat, and stir the mixture to 183 ºF (81 ºC) while continuously stirring using a rubber spatula. Remove from heat and pour into another bowl to stop the cooking process.
Add the chopped chocolate and using an immersion blender or Piano Wire Whisk, make the mixture smooth. Allow to cool until lukewarm, and pour into glasses 2⁄3 full. Place in a refrigerator till they're set.
Nutritional Information
Per serving: Calories 120, Fat 8 g (Saturated 4 g, Trans 0.1 g), Cholesterol 50 mg, Sodium 15 mg, Carbohydrate 11 g (Fibre 1 g, Sugars 9 g), Protein 2 g.