Chocolate Cheesecake Truffles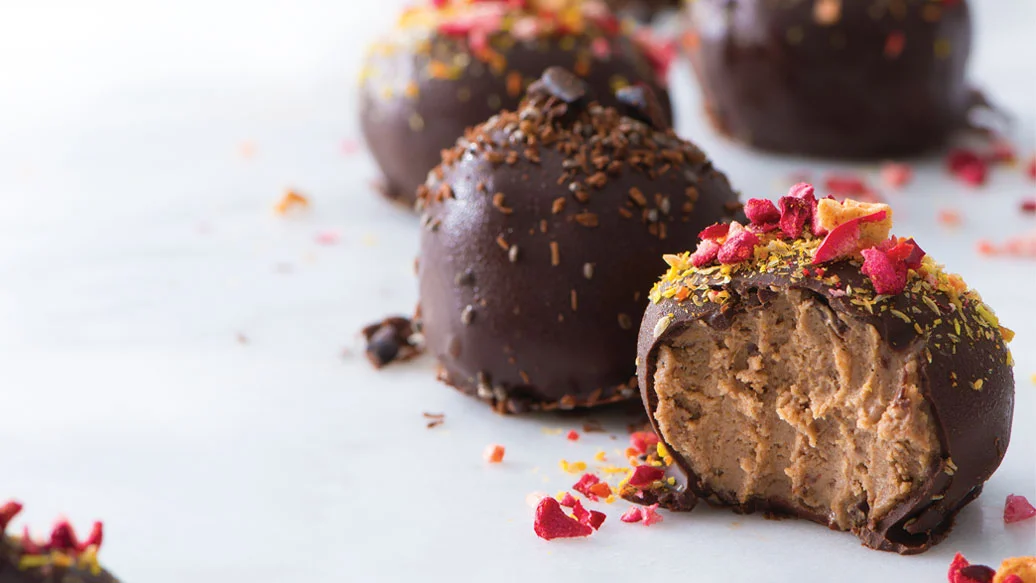 2 hours (includes 1 1/2 hours chill time)
32 truffles
$0.23/serving
Preparation
For truffles, measure 1⁄4 cup chocolate chips into a bowl; microwave on medium, stirring often, until melted. Set aside to cool. Meanwhile, using an electric mixer, beat cream cheese until fluffy; beat in protein blend and cheesecake mix. Once blended, beat in the cooled chocolate. Refrigerate until firm, about 30–60 min.
Form into 1-inch (2.5-cm) balls; freeze on a Sheet Pan lined with a Sheet Pan Liner until firm, about 30–60 min.
Meanwhile, in a heatproof bowl set over a Multipurpose Pot - 8 cup filled with hot (not boiling) water, melt remaining chocolate chips, butter, and oil, stirring frequently. Remove from heat; let cool slightly. Mixture should still be runny.
Using a fork, dip (don't poke) truffles, one at a time, into chocolate, tapping fork on edge of bowl to remove excess. Place on a clean Sheet Pan lined with a Sheet Pan Liner. Repeat with remaining truffles. If coating starts to harden, rewarm over pot of steaming water, stirring until softened.
Sprinkle with toppings if desired, while chocolate coating is still soft. Let cool at room temperature, about 30 min. Refrigerate up to 5 days.
Nutritional Information
Per serving (1 truffle): Calories 90, Fat 7 g (Saturated 3.5 g, Trans 0 g), Cholesterol 1 mg, Sodium 37 mg, Carbohydrate 7 g (Fibre 1 g, Sugars 6 g), Protein 2 g.