Chilled Tomato Aspic for Verrines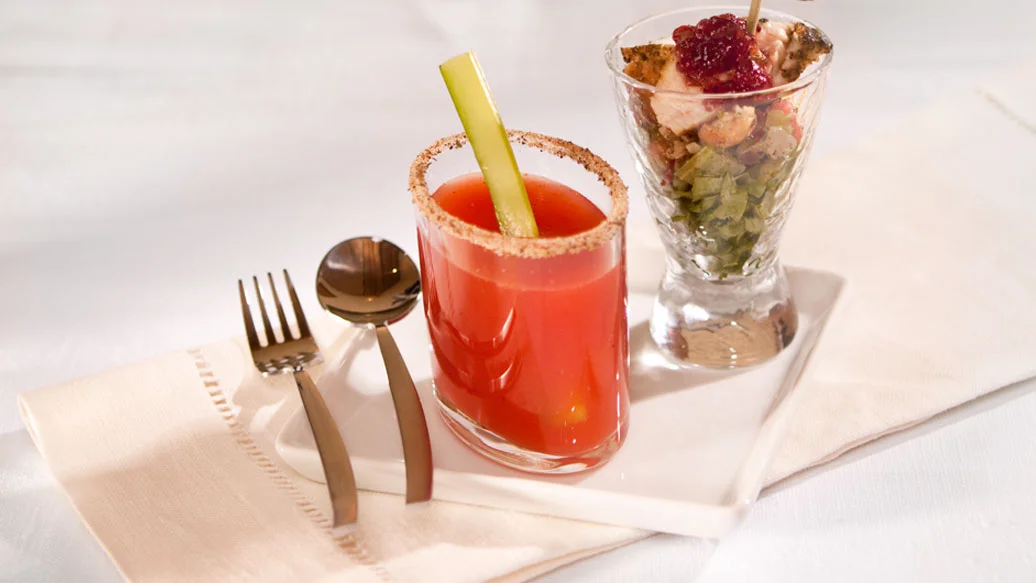 20 min
6 verrines
$0.91/serving
A delightful twist on a favourite jellied salad. Make it a Caesar by adding a splash of vodka!
Ingredients
1 tbsp unflavoured gelatin
1⁄2 cup cold water
1 1⁄2 cups Clamato® or tomato juice
1 tsp sriracha seasoning
2 tsp lemon juice
2 tbsp vodka, optional
1 tbsp Caesar Rim Trimmer™
6 mini celery sticks or cucumber slices
Preparation
Sprinkle gelatin over cold water in Multipurpose Pot - 8 cup. Let stand 1 minute.
Stir over low heat until gelatin is completely dissolved, about 5 minutes. Remove from heat. Stir in Clamato® juice, sriracha seasoning, lemon juice and vodka, if desired. Set aside.
Prepare 6 verrines by coating rims with lemon juice. Trim with Caesar Rim Trimmer™.
Carefully pour prepared mixture into verrines. Refrigerate until firm.
To serve, slide a mini celery stick down the side of each verrine, or a cucumber slice over the rim.
Nutritional Information
Per serving: Calories 40, Fat 0 g (Saturated 0 g, Trans 0 g), Cholesterol 0 mg, Sodium 1010 mg, Carbohydrate 8 g (Fibre 1 g, Sugars 2 g), Protein 2 g.