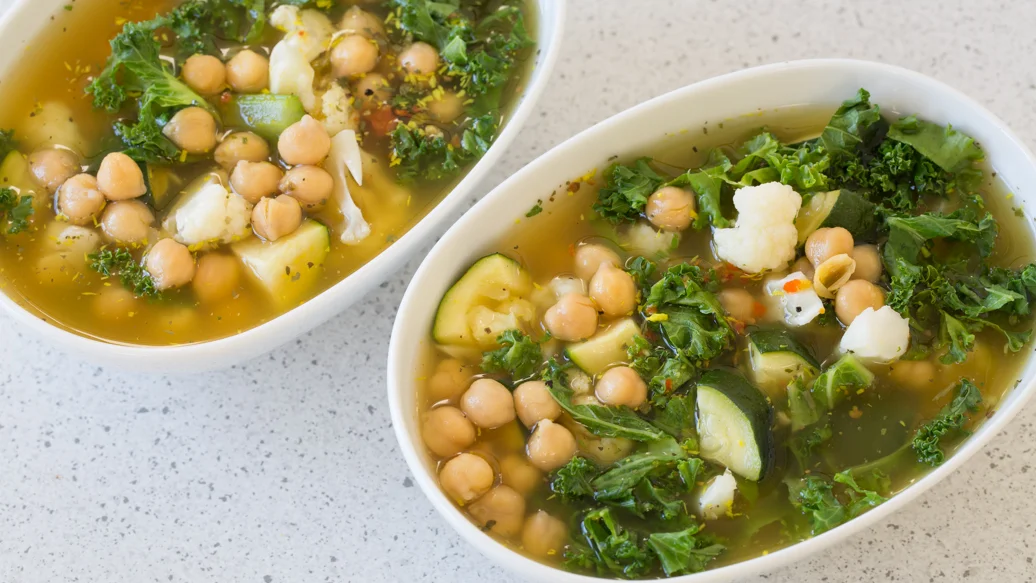 17 min
8 cups
$0.60/serving
Think homemade soup is complicated? Uh-uh! It's as simple as mixing frozen veggies and a can of beans, then bolstering flavour with a flavourful broth. Frozen veggies are healthy and convenient. They're frozen soon after picking, which helps lock in nutrients. Streamline cooking with  Steamers. These make meals easy: mix, cook, serve and even store leftovers in them.
Perfectly Balance Your Plate
Serve with 1 tbsp feta cheese and a crusty whole wheat roll.
Ingredients
3 cups mixed vegetables
3 cups shredded kale or spinach
1 can (14 oz /398 ml) chickpeas, rinsed
Sea Salt, to taste
Black Pepper, to taste
Preparation
Steamer:
Combine ingredients in a Multipurpose Steamer.
Microwave with lid on for 10–12 minutes, until vegetables are soft.
Very carefully remove from microwave, season to taste, stir, and serve.
Stovetop: 
Combine ingredients in a Multipurpose Pot and bring to a boil. 
Reduce heat and simmer for 10–15 minutes, until vegetables are soft.
Nutritional Information
Per serving (2 cups): Calories 270, Fat 2.5 g (Saturated -2.5 g, Trans 0 g), Cholesterol 0 mg, Sodium 550 mg, Carbohydrate 53 g (Fibre 13 g, Sugars 2 g), Protein 13 g.
Tips
Bump up protein and stir in cooked shredded chicken, frozen shrimp or shelled edamame.