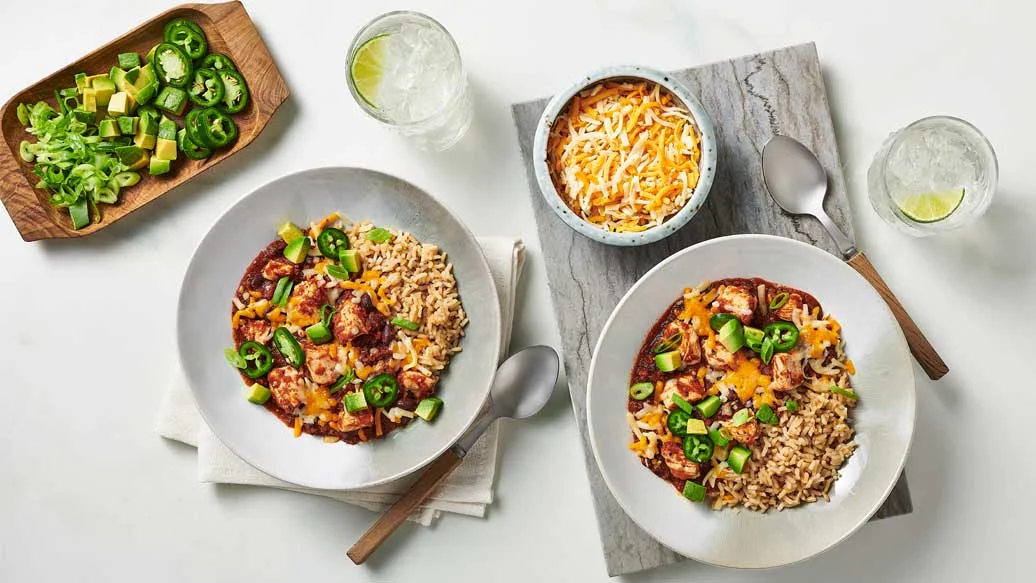 20 min
6 servings
$2.85/serving
Perfectly Balance Your Plate
Serve with 1⁄2 cup cooked grains such as rice or quinoa and 1 cup sliced veggies. 
Ingredients
1 can (19 oz/540 ml) low-sodium black beans
1 can (14 oz/398 ml) crushed tomatoes
1 cup water
1 pkg Huevos Rancheros Seasoning
1 lb (450 g) boneless, skinless chicken breasts, about 2
1 cup grated cheese, your choice
Toppings (optional): sliced avocado, sliced green onion, fresh sliced jalapeño
Preparation
Drain and rinse beans. In a sauté pan set over medium-high heat, combine beans, tomatoes, water, and seasoning. Using Ground Meat Separator, mash some of the beans. Sauce should be chunky.   
Bring to a boil over high heat, stirring often. Reduce heat to medium-low; cover and simmer 5 min.   
Meanwhile, cube chicken. Place in Round Steamer. Cover; microwave on high, 5 min, stirring halfway through, until chicken is cooked. Remove from microwave. Let rest, and leave it covered, 1 min to let heat redistribute.   
Place chicken into pan with sauce (discard liquid in steamer). Stir to coat. Top with cheese. Cover 1 min or until cheese has melted.
Nutritional Information
Per serving: Calories 290, Fat 9 g (Saturated 4.5 g, Trans 0 g), Cholesterol 60 mg, Sodium 410 mg, Carbohydrate 28 g (Fibre 10 g, Sugars 2 g), Protein 28 g.