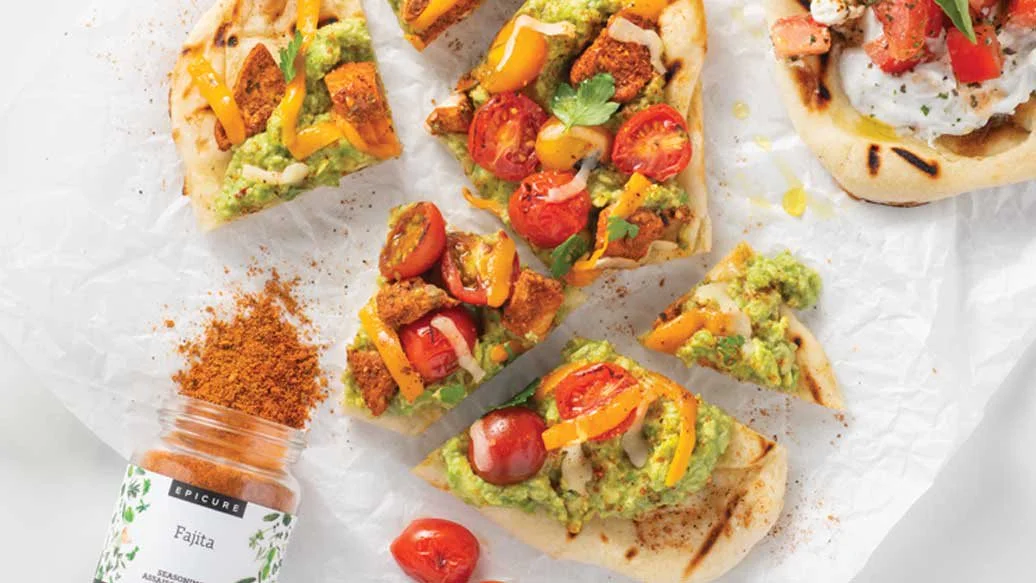 15 min
8 servings
$1.90/serving
This is an easy al fresco appie. Prep ingredients ahead so you can focus on chilling while grilling.
Ingredients
1⁄2 lb (225g) boneless, skinless chicken breasts
1 avocado
1⁄2 lime
12–15 cherry tomatoes
1 tbsp olive oil
4 naan breads
1 cup grated cheese, your choice
Toppings (optional): Fresh cilantro or parsley leaves, olive oil
Preparation
Preheat grill to medium.
Cut chicken into bite-size cubes. Place in Multipurpose Steamer; stir in seasoning. Cover and microwave on high 2–2 min 30 sec, until chicken is cooked through.
Meanwhile, cut avocado in half; discard pit. Scoop flesh into a bowl; add dip mix. Using 2-in-1 Citrus Press, squeeze in juice from lime. Using the Ground Meat Separator, coarsely mash.
Slice tomatoes in half. Lightly brush both sides of naan breads with oil. Place prepared chicken, guacamole, tomatoes, oiled bread and cheese on a Sheet Pan and head to the grill!
Place bread on grill. Barbecue until one side is lightly charred, 2 min. Remove from grill; spread grilled sides with guacamole, then top with chicken, tomatoes and cheese.
Place back on grill; close lid and barbecue until cheese melts, 1–2 min.
Nutritional Information
Per serving (1/2 flatbread): Calories 240, Fat 11 g (Saturated 3 g, Trans 0.1 g), Cholesterol 30 mg, Sodium 400 mg, Carbohydrate 23 g (Fibre 4 g, Sugars 2 g), Protein 14 g.
Tips
To grill chicken, brush breasts with oil and rub with Fajita Seasoning. Grill, turning often, until cooked through, 6–8 min. Slice into bite-size pieces.