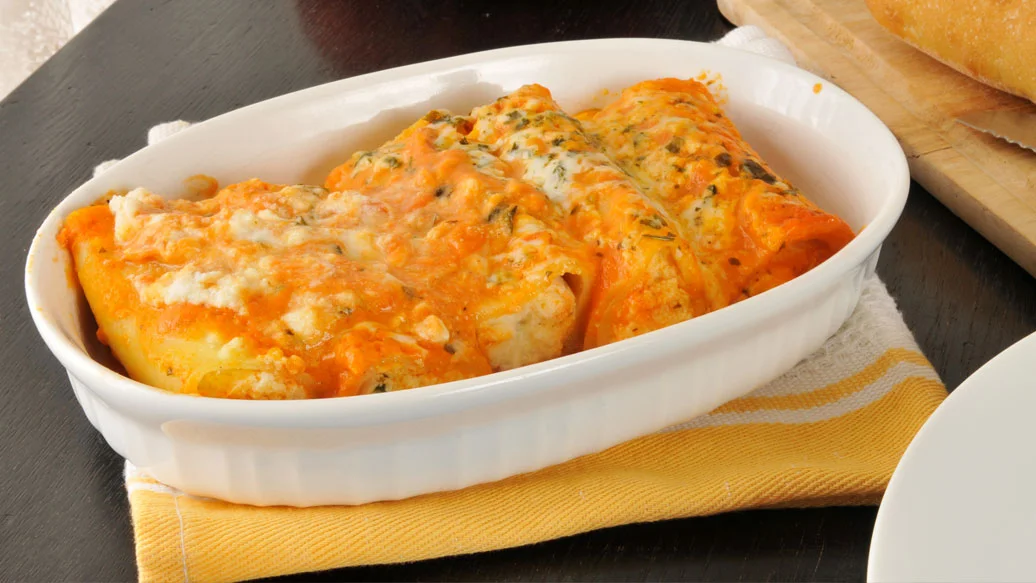 40 min
4 servings
$2.73/serving
Health Canada recommends having a meatless meal at least once a week. This dish is so delicious, your family won't miss the meat!
Perfectly Balance Your Plate
Serve with roasted carrots and parsnips, or your choice of seasonal vegetables.
Ingredients
8 manicotti shells
1 cup mushrooms
1⁄2 cup fresh parsley, chopped
10 oz (300 g) medium tofu, drained and crumbled, or light ricotta cheese
1 egg or 2 egg whites, slightly beaten
2 tbsp Parmesan cheese
1⁄2 cup low-fat cheddar cheese, grated
Sauce:
1 1⁄4 cup low-fat milk
2 tbsp all-purpose flour
Preparation
Preheat oven to 350° F (175° C).
Cook manicotti according to package directions in Multipurpose Pot. Rinse in cold water, drain and set aside.
Spray frying pan with oil; add mushrooms and cook until tender. Stir in parsley and Marinara Sauce Mix. Cool slightly.
Combine tofu, eggs and Parmesan in a food processor, blender or large mixing bowl. Add to mushroom mixture and add 3 Onion Dip Mix.
Stuff each manicotti shell with about 1⁄4 cup tofu. Arrange stuffed shells in a baking dish.
For sauce, combine milk and flour in the frying pan over medium-low heat. Cook, stirring until thickened and bubbly. Pour sauce over shells.
Cover and bake for 20 minutes, or until thoroughly heated.
Top with cheese and bake uncovered until cheese melts, approximately 2 minutes.
Nutritional Information
Per serving: Calories 340, Fat 11 g (Saturated 3.5 g, Trans 0 g), Cholesterol 70 mg, Sodium 210 mg, Carbohydrate 39 g (Fibre 4 g, Sugars 2 g), Protein 23 g.